European brands intermingle with furniture from US company Haworth in a Michigan hotel that has been reimagined by Spanish designer Patricia Urquiola.
The Haworth Hotel is housed within a multi-level brick building in downtown Holland, a small city along Lake Macatawa. The hotel sits within the campus of the private school Hope College.
The renovation was backed by the Haworth family, which owns the office furniture brand by the same name. The hotel is meant to accommodate visitors to the company's global headquarters in Holland, along with visitors to the college.
"The hotel was completely redone as part of a large initiative to turn a campus hotel into a design showcase while enhancing the guest experience," the company said.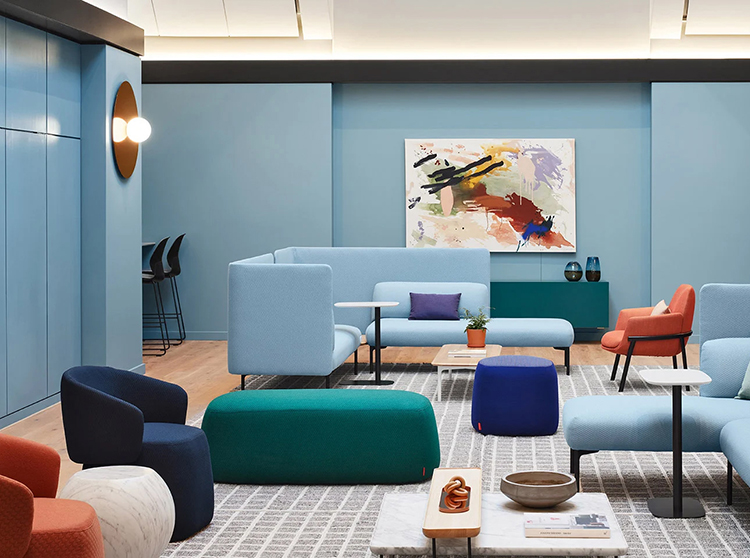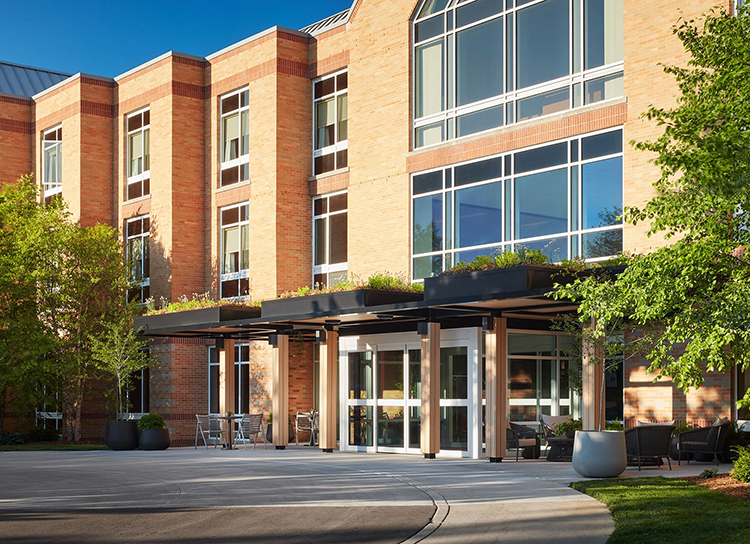 To revitalise the hotel, the company turned to Spanish designer Patricia Urquiola, who runs a studio in Milan. Urquiola has created several products for Haworth, including a sofa and pouf, and has a knack for balancing "warmth, playfulness, sophistication and multiple brand experiences".
For the hotel project – Urquiola's first in the US – the designer was charged with creating a distinctive space that is both durable and comfy.
The property contains 48 guest rooms, a range of meeting spaces, a fitness centre and a newly added coffeeshop that is open to the public. There also is a ballroom that doubles as a student dining space.
Guests step into a bright lobby featuring pale wooden flooring and white walls. Daylight streams in through street-facing windows.
A centerpiece of the lobby is a wide, spiral staircase made of bent metal and oak. The stair rises up from a podium with geometric tile designed by Urquiola for Mutina.
Just off the entrance is a lounge space fitted with furniture from Cappellini, Cassina, Poltrona Frau and Haworth. Underfoot is a grey rug from Gan, a division of Gandia Blasco.
Similar brands are featured in other areas of the hotel.
For instance, a room with powder blue walls is fitted with poufs and stools from Haworth, Cappellini tables made of terrazzo and faux marble, and a modular sofa system designed by Urquiola for Haworth. Affixed to the walls are disc-shaped lighting fixtures from Pablo Designs.
In a dining area, the designer placed tables and chairs from Cassina and a Big Shadow lamp by Marcel Wanders for Cappellini. An accent wall is clad in white oak.
Guest rooms are intended to foster relaxation. Furnishings include Haworth poufs and chairs, bedside sconces by Louis Poulsen, and millwork designed by Urquiola and fabricated by Cassina Contract.
"The Haworth Hotel is a blend of residential and commercial solutions – durable enough to withstand years of accommodating guests and with a vibe that feels like home," the team said.
Other interior design projects by Patricia Urquiola include a Maggie Centre for cancer care in Barcelona that has a bright and homely atmosphere. The building was designed by Benedetta Tagliabue of EMBT.
The photography is by Haworth.