The artist Josephine Rais lives in Berlin with her partner Daniel Stuhlpfarrer (a graphic and type designer). In this home story, Josephine reveals her interior design preferences, how her work and home life blend together, and why this prompted her to choose Thonet furniture.
Tell us a little about yourself.
My name is Josephine Rais and I'm an artist from Berlin. I recently moved into a wonderful historic apartment with my partner Daniel Stuhlpfarrer and our two cats Cheddar and Mayo. The apartment has authentic wall panelling and wooden floorboards, and the tenant who lived here before us uncovered some beautiful Art Nouveau ceiling frescos, which are now also on display. I am a huge fan of older apartments, even if the walls are not always perfect or the floors are uneven. I would always choose something historic over a newbuild. These little imperfections are precisely what I love about older buildings; they're what give a home its character. But first a bit about us: Daniel and I are both self-employed and we split our working hours 50/50 between our studio and home. That's why it was so important to us that the design within our own four walls serves as a source of inspiration as well as a place to retreat. As my work suggests, I absolutely love colours. And I especially like to harmonise many different colours with each other or to create a colour accent with just one particular shade. Daniel prefers sharp corners and edges, but I am drawn to organic, soft shapes, which is why our home is a colourful compromise of both. Thanks to my studies and also the fact that I am self-employed, I love working in multiple disciplines. My latest acquisition is a tufting gun that I can use to make my own rugs. Right now, our apartment is covered in them. Since we both have creative jobs and we are always surrounded by artists and designers, art and design are very important to us. I think one of the biggest challenges was to design a home that would suit our cats too, and give them enough opportunities to sharpen their claws.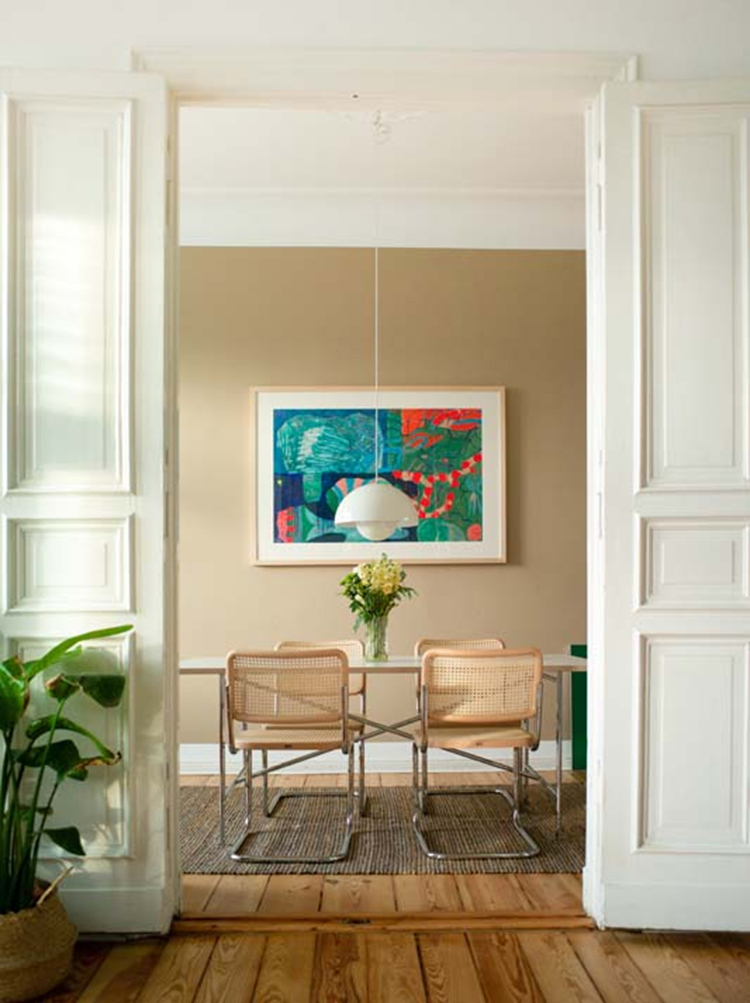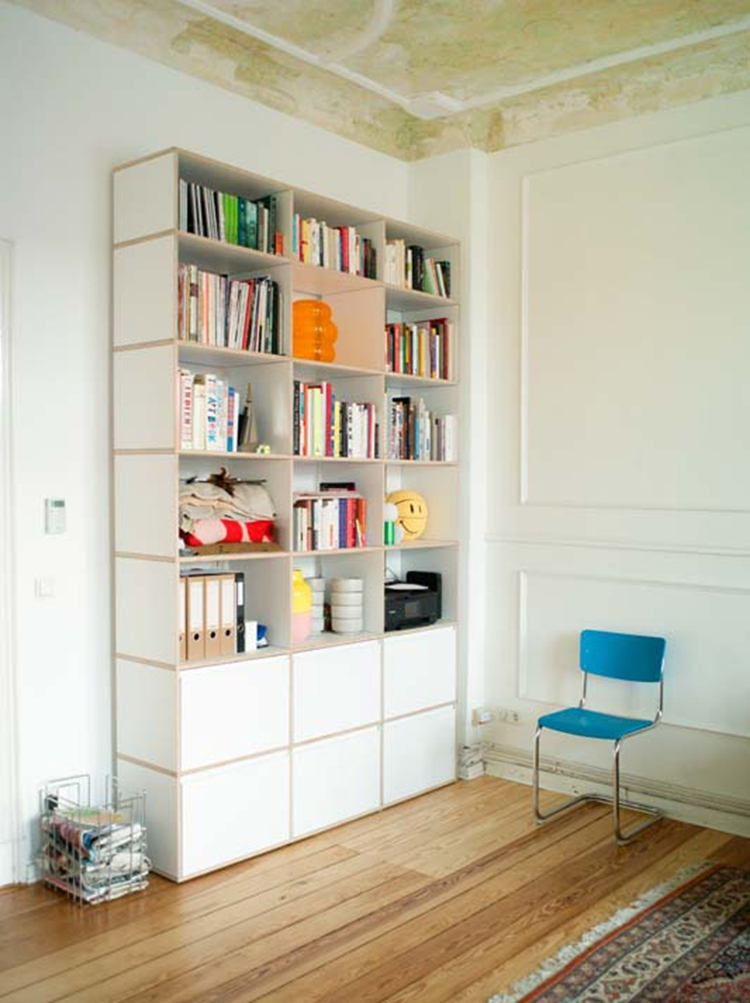 What are your priorities when it comes to the interior design for your apartment?
Light, character and attention to detail. I love bright, light-flooded rooms, so I made sure that our home did indeed let in a lot of light. Obviously, it's not just about the furnishings, but you can still make darker rooms feel a lot brighter if you go for lighter coloured furniture and fabrics. For me, however, the most important thing is that a home has character. Our apartment is a combination of timeless classics, modern pop culture and a dash of kitsch. I've been collecting furniture and decorative pieces, which I find in second-hand shops, flea markets and on eBay, for a very long time, and I mix them up with design classics. It's important to me that my home is a reflection of what I myself can identify with. That's why our apartment is full of pieces by artists that inspire me, furniture that is high-quality and functional, lots of plants and, above all, bright colours. I'm always looking for good quality, durability and functionality. I also love buying good-quality second-hand things that the original owner simply doesn't want any more. I like the idea that a piece of furniture was a part of someone else's story. And finally, I have a passion for small things – sculptures, figurines, candles and candle holders, bowls and lamps. I would love to have them all! I think that small objects are often what make the difference, turning something ordinary into something very special.
Where did you first encounter Thonet furniture and why did you choose the cantilever chairs?
It was when I was a student. I studied product design at the University of Applied Design in Schwäbisch Gmünd. The teaching there was heavily influenced by the Bauhaus approach and the former Ulm School of Design. During my studies I fell in love with the work of Marcel Breuer and knew I wanted to have these chairs one day.
Being self-employed gives us a lot of flexibility, not least about where we work. That's why we've been working from home a lot since the pandemic. As our dining room is also our home office, we were looking for a solution that was both cosy and comfortable. We went for the S 32 because, to us, it embodies both aspects perfectly.
Which Thonet pieces are still on your wish list?
The B 22 A shelving unit. I really love to cook and have recently started collecting cookbooks. We are still looking for the right spot to highlight the books as well as Daniel's work. At some point, we want to have a living space that is separate from our home office, and I think the S 285 desk would be perfect for that constellation. But that's still a way away.