Tom Dixon and his team are planning to make up for lost time after an 18-month travel hiatus, with a grand tour that will see the designer bounce across eight European cities to present his latest designs. Making its first stop in Milan during Salone del Mobile 2021, Dixon's presentation focuses on the theme of light, with a showcase titled 'Luminosity' exploring 'how optics and light can improve your space'.
The British brand takes over The Manzoni, Tom Dixon's Milanese hub and restaurant, which will feature his latest pieces of lighting design. Dixon will team up with long-term collaborator Francesca Sarti of Arabeschi di Latte, and with Bompas & Parr, to curate a series of thematic events in the space. Meanwhile, a few doors down, Dixon also curates a lighting installation in the Valextra flagship store, inspired by lighting designs by Milanese masters including Gio Ponti, Ettore Sottsass and Achille Castiglioni, and featuring monumental LED sculptures in collaboration with Austrian specialist Prolicht.
Among the new collection are 'Press' lights, made of ribbed thick glass shaped into precise spheres and cones, their compositions inspired by buoys and children's toys. The patterned glass surface creates textured light patterns, and the manufacturing process includes pressing large globs of molten glass at 1,200°C in an iron mould, making the lights extra-durable (and also suitable for outdoor use).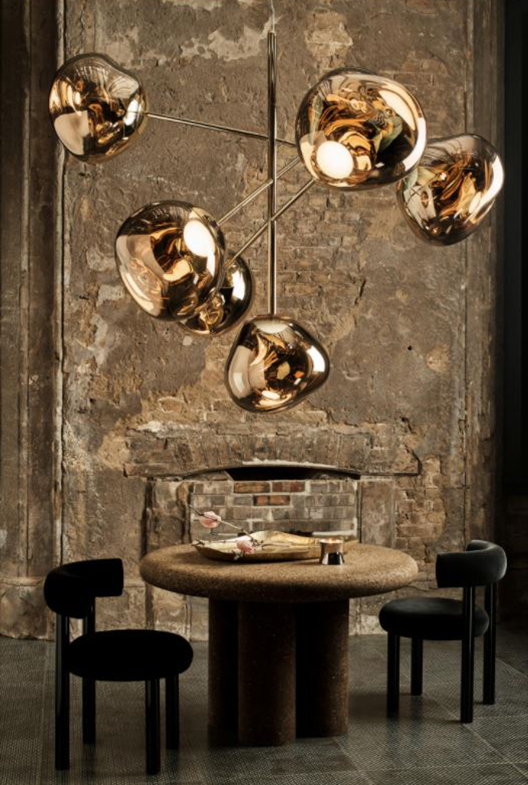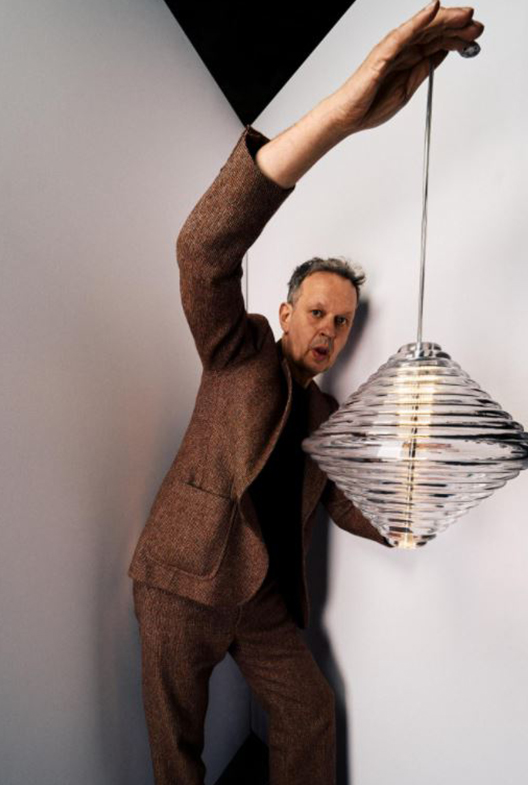 Also on view are the dramatic, oversized 'Melt Mega Chandeliers', an addition to the organic forms of the 'Mega' series featuring seven orbs exploding from a central hub, creating a dynamic play of reflections.
'My first encounter with Milan opened my eyes to an immense international design world that had previously been invisible from my British perspective,' says Dixon. 'The passion of the Milanese for design and the understanding of its transformative power remains with me to this day.'
The next stop after Milan will take Tom Dixon's Grand Tour to London Design Festival, where he'll present the theme of 'materiality' from his Coal Office HQ (18 – 24 September 2021) before traveling to Paris, Berlin, Kortrijk, Antwerp, Oslo and Copenhagen in the following months.
'The Grand Tour was historically the key part of the English gentleman and gentlewoman's education,' observes Dixon. 'A visit to the great capitals of Europe to study classical civilization, to enjoy great works of art and architecture, to study languages and to come home as a fully cultured person. For us, Grand Tour will have some of these features, but the big idea is to get back on the road, to travel once more to the great design capitals of Europe and show our partners, friends and new acquaintances some of the fresh ideas we have been cooking up for the last 18 months and could only share digitally.'