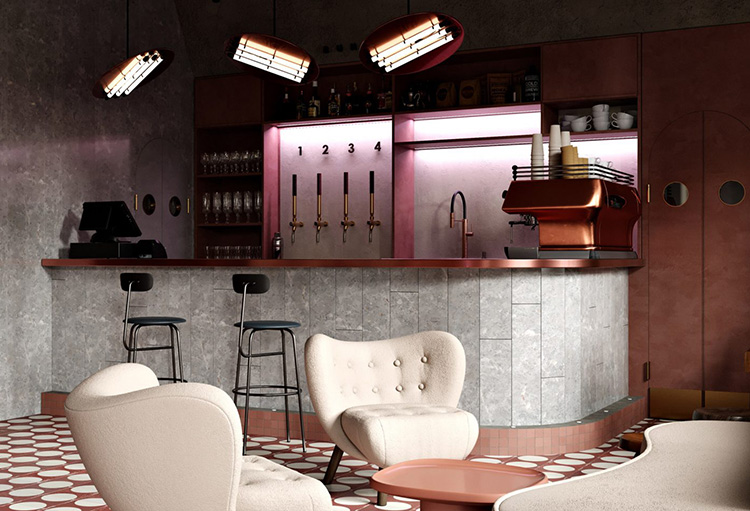 A towering sculpture by Kaws and a graphic polka-dot print floor feature within this Budapest bar, which interior architect Roman Plyus has designed to be instantly Instagrammable.
Located at the heart of the Hungarian capital, Buhairest is set within an early 20th-century building that once served as a textile factory. The 350-square-metre bar has been designed by Roman Plyus to be a "dramatic" space that encourages visitors to snap and share photos on Instagram.
"I think it's very important for public interiors to leave behind a pleasant aftertaste and a couple of good shots as a keepsake," Plyus told.
"It has always been important for people to capture their history, from the time of cave paintings – Instagram is like a small cave where each of us displays pictures of our lives."
A curved niche at the rear of the venue is filled with a sculpture by American artist Kaws – titled Small Lie, the piece depicts a Pinocchio-inspired figure bowing its head.
At the base of the sculpture is a brass-framed plate on the floor spelling out the word Instagram, outlining the space as a prime photo opportunity for visitors.
Bold, Insta-friendly details pepper the rest of the space. A bulbous fireplace dominates a corner of the main room, and reclaimed rust-red tiles create a polka-dot pattern across the floor.
The same russet hue has been applied to several other elements in the bar, such as the central high-table and circular wall sconces.
"The colour scheme was inspired by the brick facade of the building," Plyus explained.
"I wanted the sensation created from the outside to be transmitted to the inside along with the visitor."
Undulating terracotta-coloured panels also provide a backdrop to a pair of round wicker seats.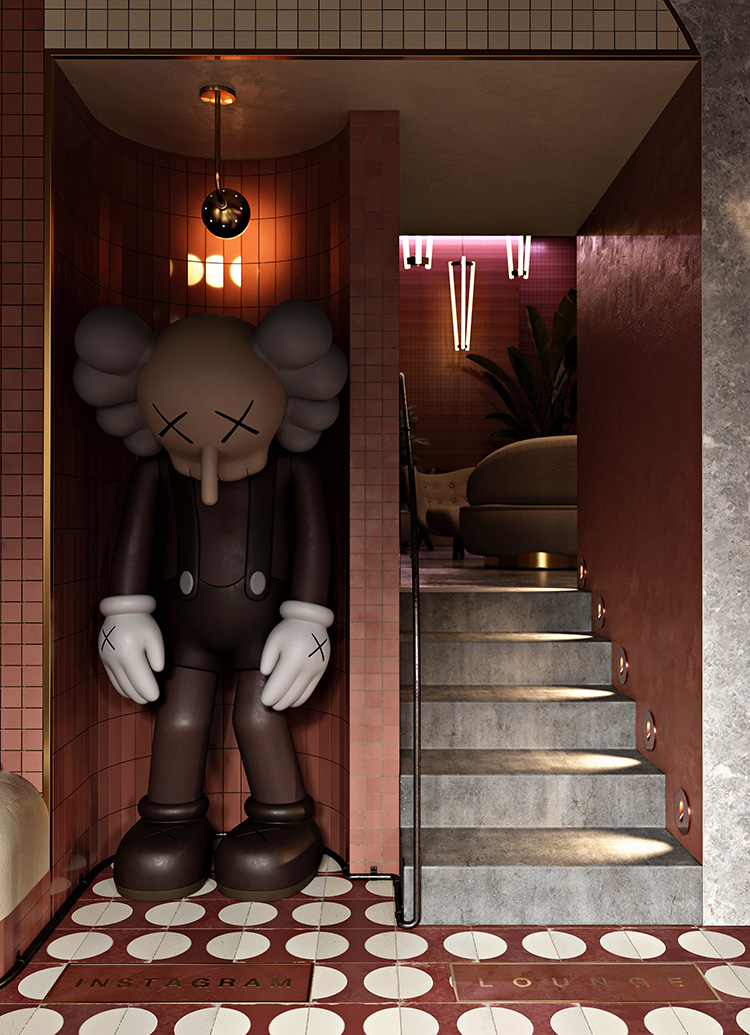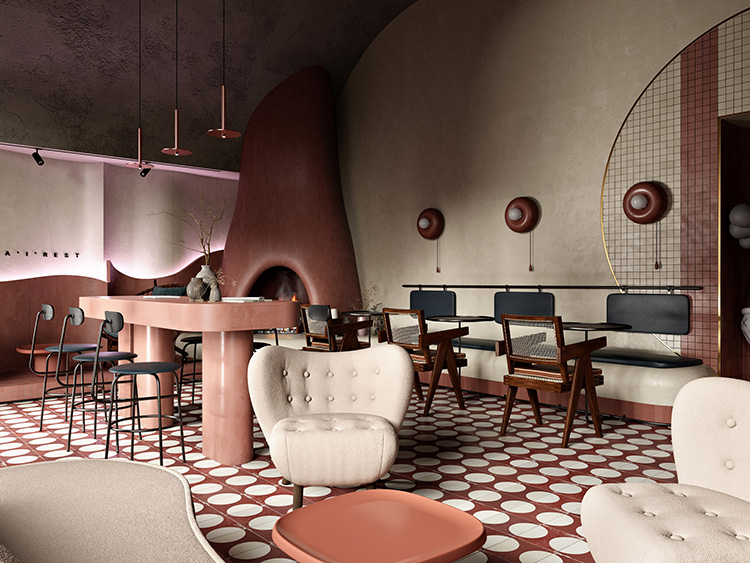 The space is dressed with vintage Pierre Jeanneret chairs, which Buhairest's owner had leftover from a previous venue, and earth-toned ceramic pots filled with wild grass.
Grey marble has been used to craft the base of the bar counter, which features a shiny copper-like surface. Marble extends up an adjacent wall, offering a textural contrast to the rest of the surfaces, which are washed with beige plaster. A sofa and a couple of armchairs upholstered in creamy boucle fabric have been used to dress the entryway of the bar, placed just in front of the building's original arched windows.
Plyus says the curved form of the furnishings – and the light fixture that dangles directly above – is meant to loosely nod to the work of American sculptor Alexander Calder, who is known for producing large-scale mobiles made up of geometric shapes. The same furnishings appear in the more intimate lounge area that lies at the back of the bar, accessed via a short flight of stairs.