In the upper-level formal living area of this Sydney home, Drive sofa, Hug armchairs, Blend coffee tables and Lines rug, all from Giorgetti.
In these so-called transformative twenties, as the world begins to redress in the wake of unprecedented upheaval, the question of who we are as a country and how we want to manifest that character seems never more fraught and potentially fabulous. What is Australian style?
With clear-eyed hope for the future, architect Jeremy Bull, the forty-something founder of boutique design firm Alexander & Co ponders the question of a national design vernacular; whether it still exists or indeed still matters relative to his latest project, a heritage warehouse-turned-family-home on the fringes of Sydney Harbour.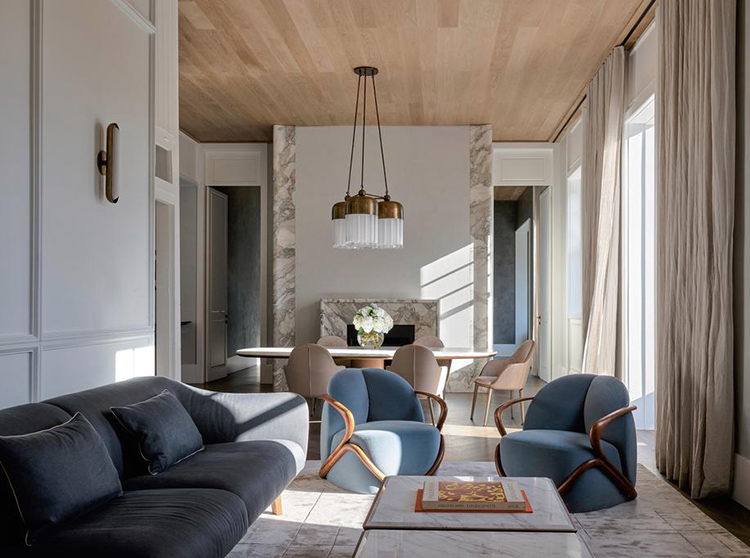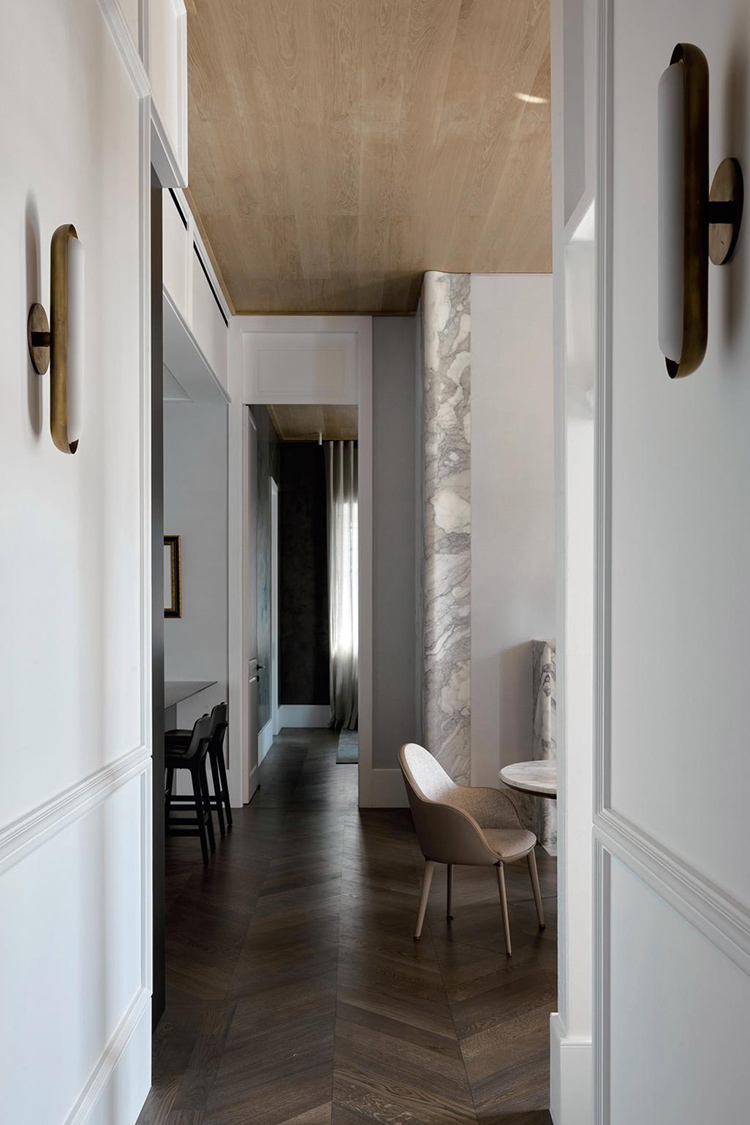 In another view of the formal dining area, Selene armchairs from Giorgetti; vase from Provincial Home Living; wall paint in Porter's Paints Snow White; chevron European oak flooring from Precision Flooring; curtain in Elliott Clarke linen from Homelife Furnishings.
"I could go on a spiel about critical regionalism," he says in reference to the theorising of critic Kenneth Frampton who, responding to the homogenising effects of globalism in the 1980s, made a case for structure to be informed by a site's climate, topography and tectonics. "If I accept that colonial settlers fundamentally dismantled anything that was critically regional when they first arrived—decimating all the Indigenous thinking around shelter—and that we borrowed colonial workmanship and applied it to whatever was available with regard to weather… I arrive at a whole lot of different morphologies; regional mash-ups of something European expressed in local materials."
In the upper-level formal dining area, Mizar dining table from Giorgetti; fireplace in honed Arabescato marble from Stoneplus; Tassel 57 chandelier from Apparatus.
But now, there are none of the limitations on global supply chains that once gave structure its materiality, shape and dialect, he argues in reference to a culture that today splays off in every conceptual and aesthetic direction. "It's the same all around the world," he says. "Australian style is now pretty much arbitrary because it's all up for grabs."
Believing that design is now more focused on people than place—"one logically impacting on the other"—he says that the concept of luxury across all consumer quotients is re-calibrating to time—"not style, not look, not theme, not scheme dripping with expensive stone, but time"—the can't-cheat-it measure of the making and thinking that goes into complex problem-solving relating to living, ecologies, sustainability and histories.
In the guest bathroom, custom vanity in honed Nero Marquina marble from Di Lorenzo Tiles; Brodware Manhattan tapware from Candana; Fisher Island basin by Piero Lissoni from Boffi; Circuit 2 pendant light from Apparatus; herringbone splashback and floor in honed Nero Marquina marble from Di Lorenzo Tiles; white glass mosaic tiles (in shower) from Bisazza; custom panelled shower door in reeded glass from Spectrum Art Glass.
"And time was both the luxury and the limitation of this property," Bull says, thumb-sketching an entrepreneurial couple who, having spent the last 10 years in London, hoped to sustain the essence of that cosmopolitan life in a heritage-listed structure for a family of six.
"How to transplant their life in the UK into an important colonial building in less than 12 months, while convening all meetings and decision-making long distance?" Bull asks with more than a hint of the residual stress that came from preserving important industrial archaeology while materialising the wants of clients he had met only once. "The old warehouse-turned-admin-facility was perched on piers on the water and constructed completely in carpentry. We were dealing with 200-year-old uninsulated timber windows and walls, meaning no pathways to run any services and no possibility of touching anything."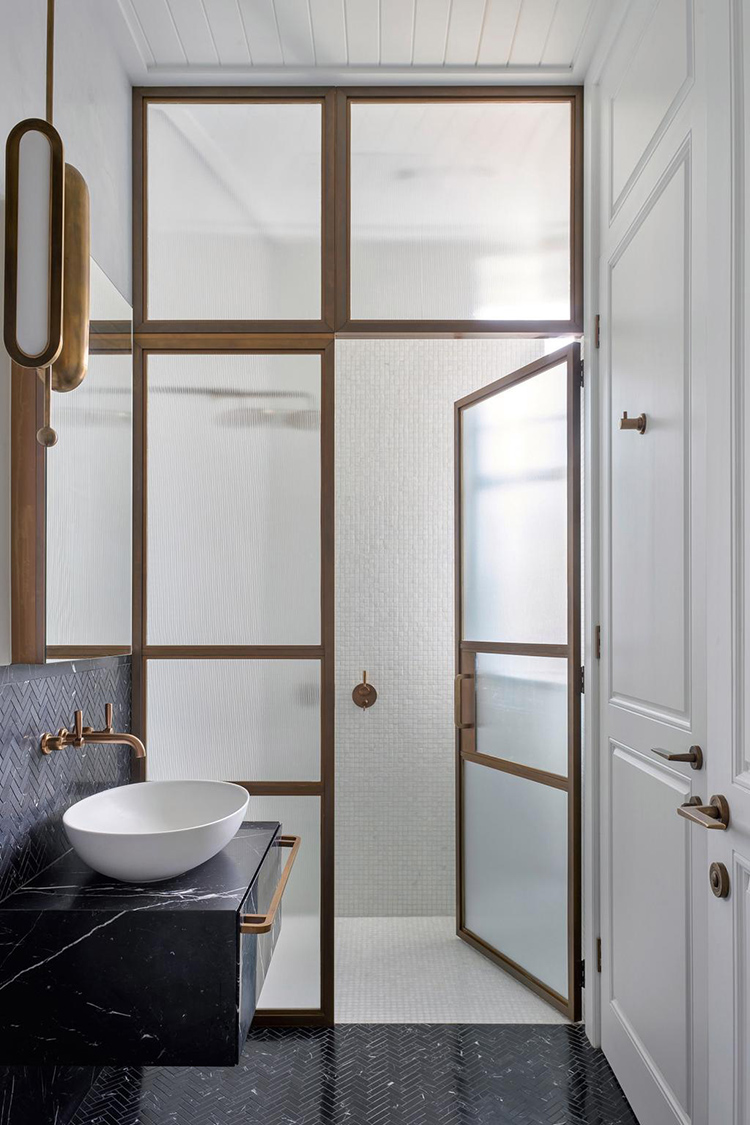 In the upper-level hallway with a view of the kitchen and formal dining area, Circuit 1 wall sconce from Apparatus. The only way forward was to build an entirely new two-level house within the heritage envelope, working all services into the sandwich of old and new wall while dovetailing the colonial detail with modern design until history and home blurred.
With a design hand hovering between pure reductivism and a sensory richness informed by the spirit of place, Bull applied his mediating, sumptuous minimalism to a top floor finessed for adults and a lower level made serviceable for children.
In the main ensuite, custom vanity in honed Arabescato marble from Stoneplus; Brodware Manhattan tapware from Candana; Fisher Island bathtub by Piero Lissoni from Boffi; Endless Straight – 3 Units pendant light from Roll & Hill; herringbone flooring in honed Carrara marble from RMS Marble; wall finished in Waterstone polished plaster in Dark Grey from Ludi Braga Interior. But the kicker was his clients had a strong affection for certain European brands and required that anything specified would be accessible for the inspection in a London showroom. This narrowed down the select of fixtures and fittings, determining that the ease of 'pure-shape' kitchen systems by Italian manufacturer Boffi be installed in both the upper-level entertaining hub and the lower-level kids' kitchen (detailed to conceal behind accordion-fold doors)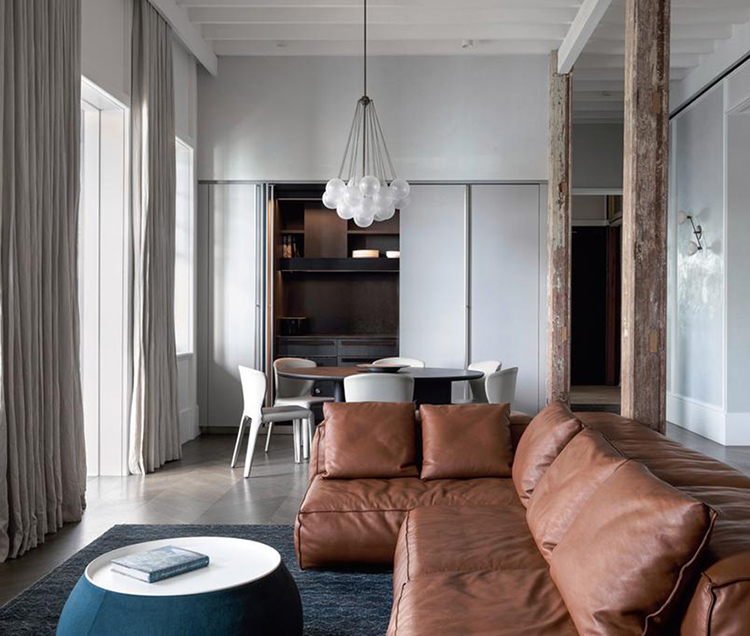 In the lower-level living area, Living Divani Extrasoft sofa by Piero Lissoni and B&B Italia Fat-Fat Lady-Fat table by Patricia Urquiola, enquiries to Space Furniture; Hola chairs from Cassina; Cloud 37 pendant light and Trapeze 2 wall lights from Apparatus; walls finished in Waterstone polished plaster in Grey from Ludi Braga Interior.
The want for a cross-continental continuity of home ambience and artistry further fed into the chosen Giorgetti furnishings, the sinuous, historicist elegance of which worked well with lighting artefacts by Apparatus in New York. The quiet addition of their curves, patinated bronze, exotic woods and the insinuated glow of gaslight into the white calm of formal rooms—nodding to both the classicism of the building's colonial era and the clients' UK context—left all decorative drama to the surrounding views of Sydney Harbour.
In the upper-level kitchen, Xila modular kitchen from Boffi; splashback in honed Arabescato marble from Stoneplus; ovens, cooktop and appliances from Gaggenau; vase from Georg Jensen. Conversely, the lower level tilted more towards a child-responsive muscularity with squared-off slabs of leather sofa and the soft fog of polished plaster walls. Only the sentinel presence of 200-year-old timber columns, left to express their age and raw structure, remind that Australia grew on the sheep's back in a warehouse that once housed its wool.
In the study, console and Elisa armchair from Giorgetti; custom walnut timber desk with green leather insert from Jonathan West; marble dish from Provincial Home Living; Synapse pendant light from Apparatus.
Yesterday's industry is today's luxury living and likely tomorrow's something else, says Bull as he tips all notion of an Australian style into the hole of contested histories, piling conservation orders, pandemics, planetary issues and the 'right now' needs of people.
In another view of the upper-floor hallway, custom upholstered panelling with brass framing.
"The present always changes the past," he says, adding metaphor to his matter-of-fact description of altering Australian history. "I'm more interested in the potential of process than the limitations of style."