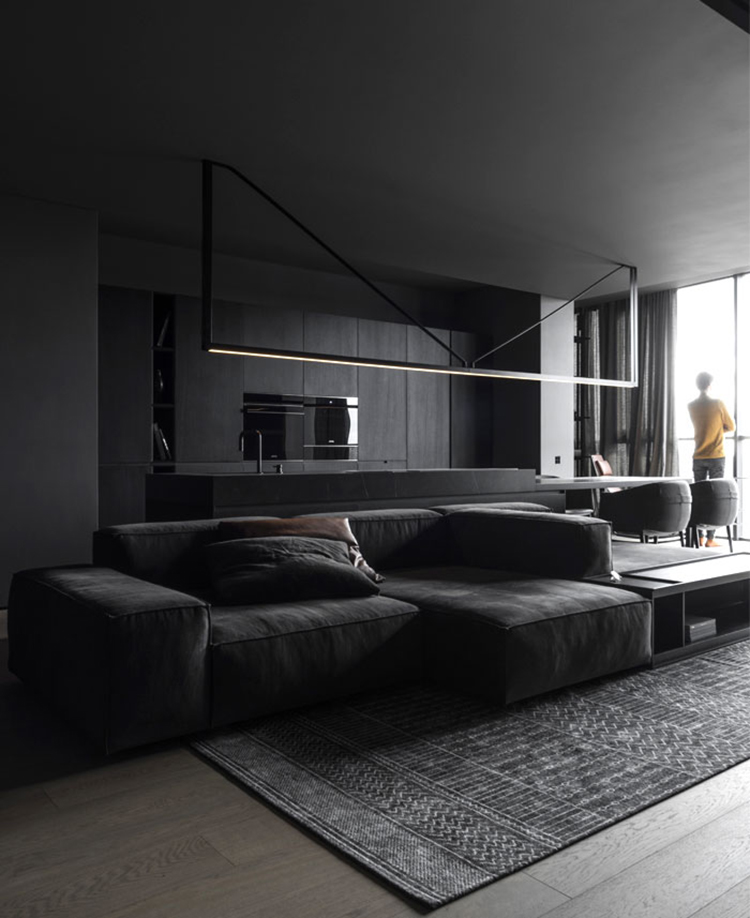 The most refined design of Living Divani is protagonist in the heart of Moldova. Signed by linearchitects, a design studio led by Dmitry and Egor Petrov, a small apartment in the capital of the Chisinau country focuses around the grey color as the common thread between the open space living area and the night one. The sophisticated and sensual interior exudes a feeling of tranquillity and intimacy thanks to the monochromatic palette that reveals a choice of high quality materials and a meticulous attention to every single detail: the protagonists of the spaces are the Living Divani furnishings declined in a masculine interpretation, for a sober and impeccable elegance.
At the center of the living area dominates the Neowall sofa by Piero Lissoni covered in a dark grey-toned fabric: a composition of large, wide and asymmetrical shapes devoted to comfort, enlivened by cushions that play on the contrast between the dark leather and fabrics decorated with black and white patterns, inspired by fashion. Grace chairs by Giopato & Coombes parade around the table that extends from the island-shaped kitchen; in particular with the Polo version covered in layers of soft fabric with topstitching and loops to create the design of a belt.
The bedroom is furnished with the Rod Bed, by Piero Lissoni, with bed frame upholstered in grey-toned fabric and soft headboard cushions embellished with quilting detail and visible buttons, in contrast with the white bed linen. Finally, the Flow rocking chair by Shibuleru creates a relaxing oasis overlooking the city, with suspended seat, natural leather-colored headrest, stylized structure and armrests in gunmetal grey painted steel.
Living Divani Products: NeoWall, Grace, Flow, Rod Bed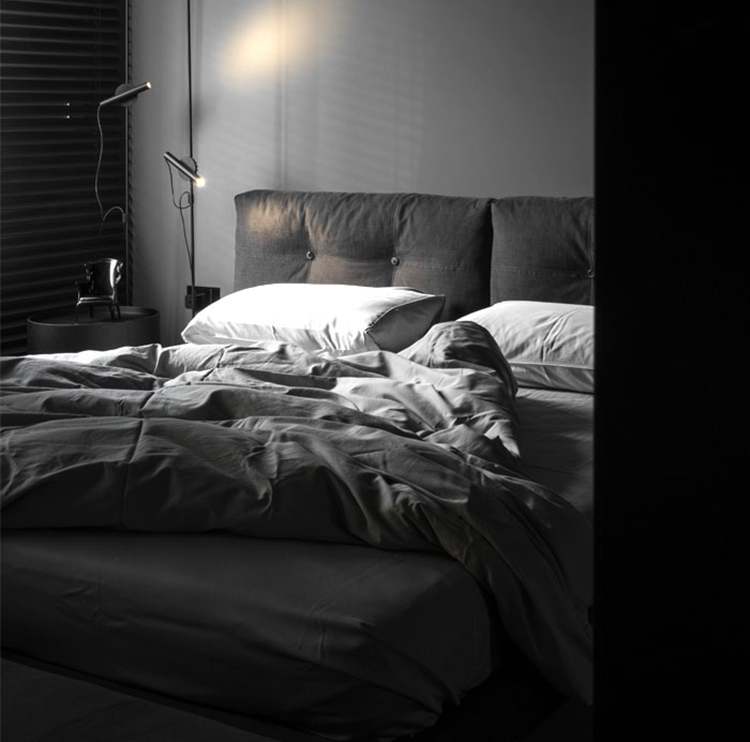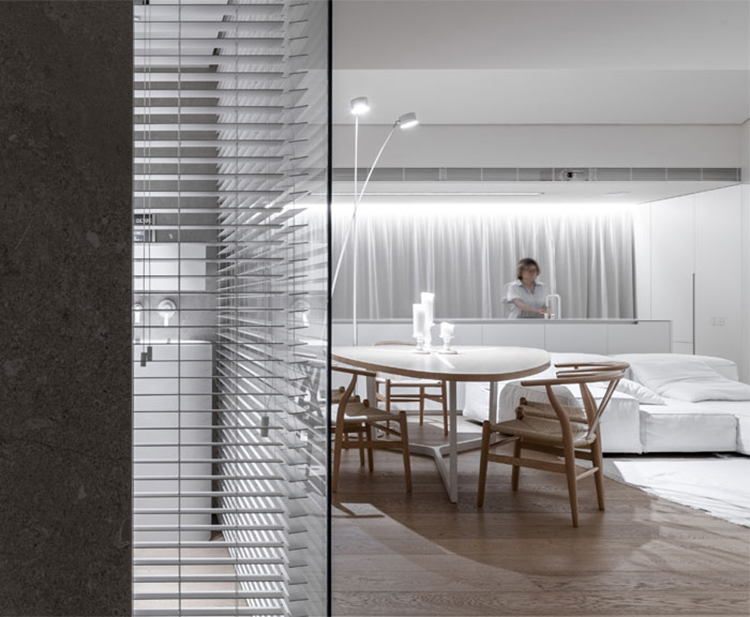 The visual purity of Living Divani design is the protagonist of an all white penthouse created even in this case by the linearchitects studio in Moldova.
Precise geometric shapes and the choice of a single color, white, combined with some soft-coloured wood elements, distinguish this ethereal apartment with a delicate taste, flooded by the light that comes from the full-height windows.
In the living room, you can surely relax over Extrasoft, the iconic sofa with a tender and malleable design created in 2008 by Piero Lissoni. Cozy and warm seats that come close to each other in regular geometries but with uncertain contours, for a composition of free shapes in the space, which pleasantly welcomes the hosts and their guests. The Family Longue Table by Piero Lissoni accompanies it, offering a functional support surface for reading.
Wrapped in impalpable curtains, the bedroom develops continuously thanks to Piero Lissoni's Extrasoft Bed, which transforms one of the most famous upholstered piece of Living Divani into a bed, taking up its characteristic welcoming shapes. The mattress area is surrounded by a perimeter of soft and regular volumes embellished with visible seams, which become asymmetrical in the headboard releasing desire for relaxation, and at the same time energy and character.
Living Divani Products: Extrasoft, Family Longue Table, Extrasoft Bed