Cobalt-blue curtains hang in place of walls in a small apartment in Kyiv renovated by Ukrainian architecture and interiors studio Ater Architects. Called EGR Apartment, the 65-square-metre space was cramped, featuring a compartmentalised layout with separate rooms connected by corridors.
The owners, a  young couple, asked Ater Architects to transform it into a light and minimalist space. Ater Architects removed most of the partition walls to create an open-plan layout.
Only the bedroom area is separated from the main space by walls. Everywhere else cobalt blue curtains are used to delineate zones within the apartment.
The curtains are intended to contrast with the apartment's otherwise monotone colour and material palette. "The ambition [was] to balance the vigorous coloured accents and make the space brighter and airier while maintaining some rigour," said Ater Architects.
The ceiling in the kitchen and bathroom areas was lowered to accommodate ventilation. An existing concrete slab ceiling was painted white across the rest of the apartment.
On the floors, the architects used wide plank oak engineered flooring everywhere apart from the kitchen and bathroom areas.
The latter feature breccia flooring – a surface made from fragments of broken marble with polymer grout-filled joints.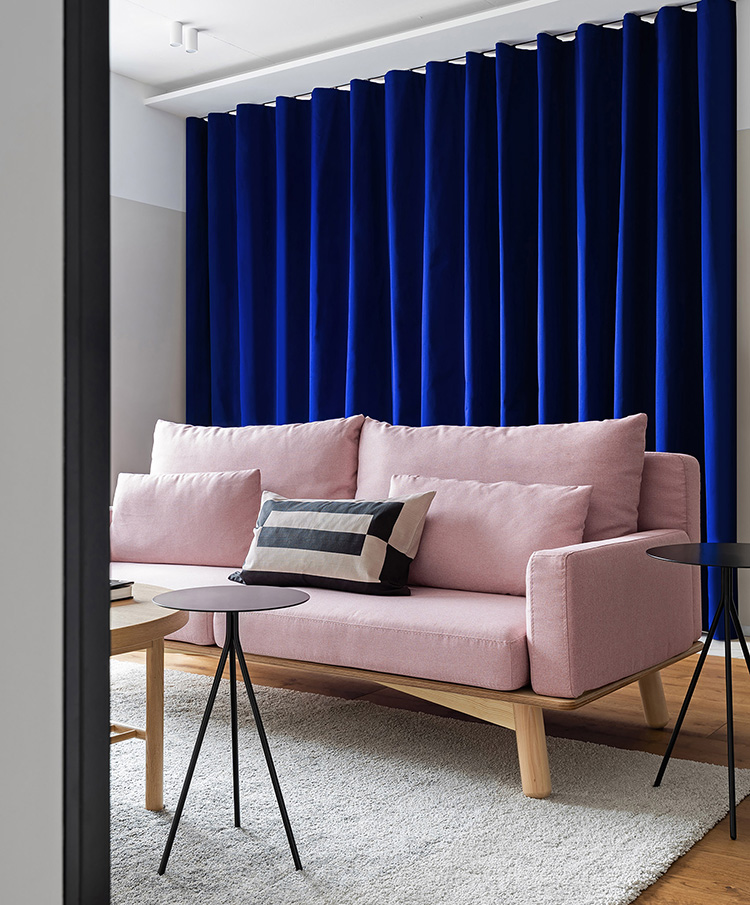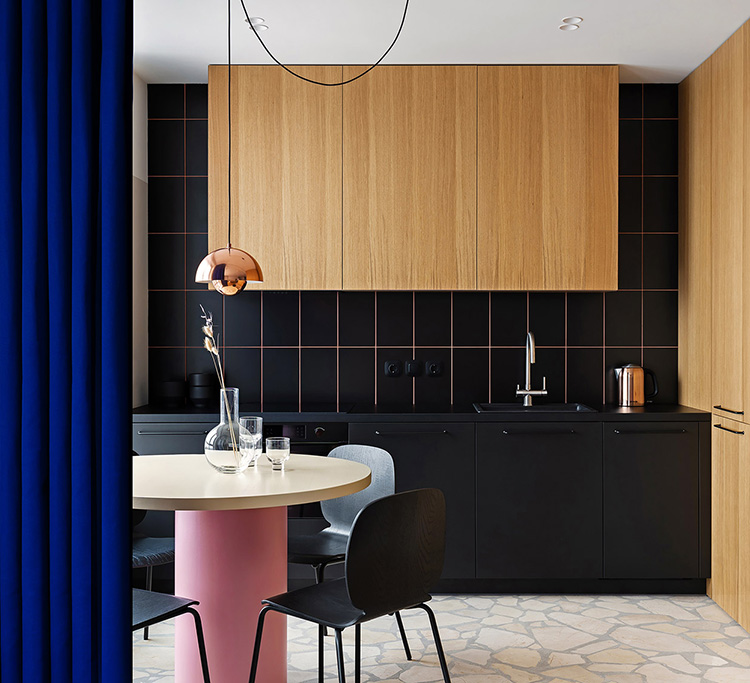 In the kitchen, the architects installed black ceramic tiles with pink grout that matches the cylindrical base of the customised dining table. Oak veneer cabinets and a copper Flowerpot lamp designed by Verner Panton in 1968 add warmth.
In the living room, a powder-pink sofa contrasts with the blue curtains. A white 265 wall lamp by Paolo Rizzatto for Flos lights the space.
"The living room is an area for communication," said the architects.  "At the request of the clients, neither television nor projector was provided." Instead of a television, the room revolves around a graphic art work by Yulia Popova.
The owners also requested an office area with a custom-designed mixing deck. "The specific request of the apartment owner was the workplace arrangement where he would be able to do his favourite thing – composing electronic music," explained Ater Architects.
"To do this, we have designed a table that can fit all the necessary equipment. Above the table, we have placed a photograph of the cult Berlin techno-club Berghain by Michael Belhadi." Other custom-designed furniture includes an oak dressing table with a round backlit mirror in the bedroom and a spacious wardrobe. This dressing area is separated from the bedroom zone by the same blue curtains.