A family house since 1906.
Ben Page, CEO of an important research company, shares this charming mews house with his wife Billie, and their two large Maine Coons. Inherited by his stepfather in the 70s, the structure was originally part of the entire townhouse that is still visible on the other side of the Pages' garden. The large garden holds a particularly special place in the Pages' hearts. Even if it has changed a bit over the years, it still preserves some memories of Ben's mother, who personally planted many of the shrubs and roses that still decorate the garden today. "We love the garden, we love spending time outside, in the sun. We've built an Italian-style shaded pergola where we can enjoy time with friends. When we look at the house from the garden we know this is exactly the place where we want to be."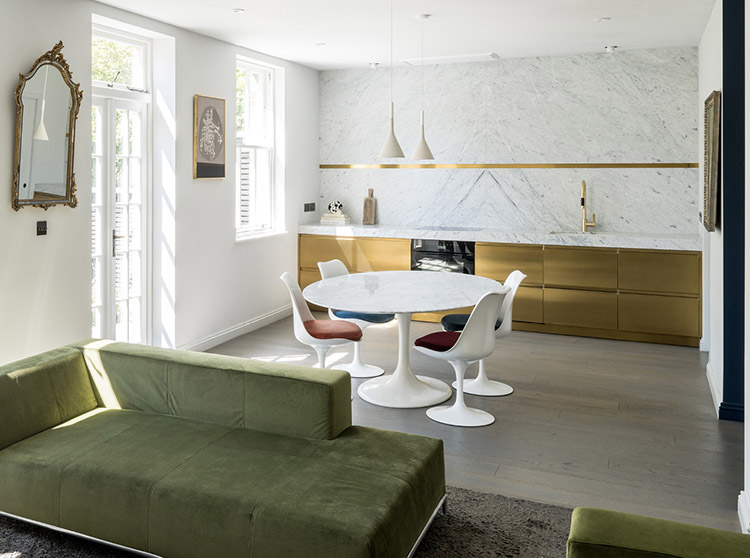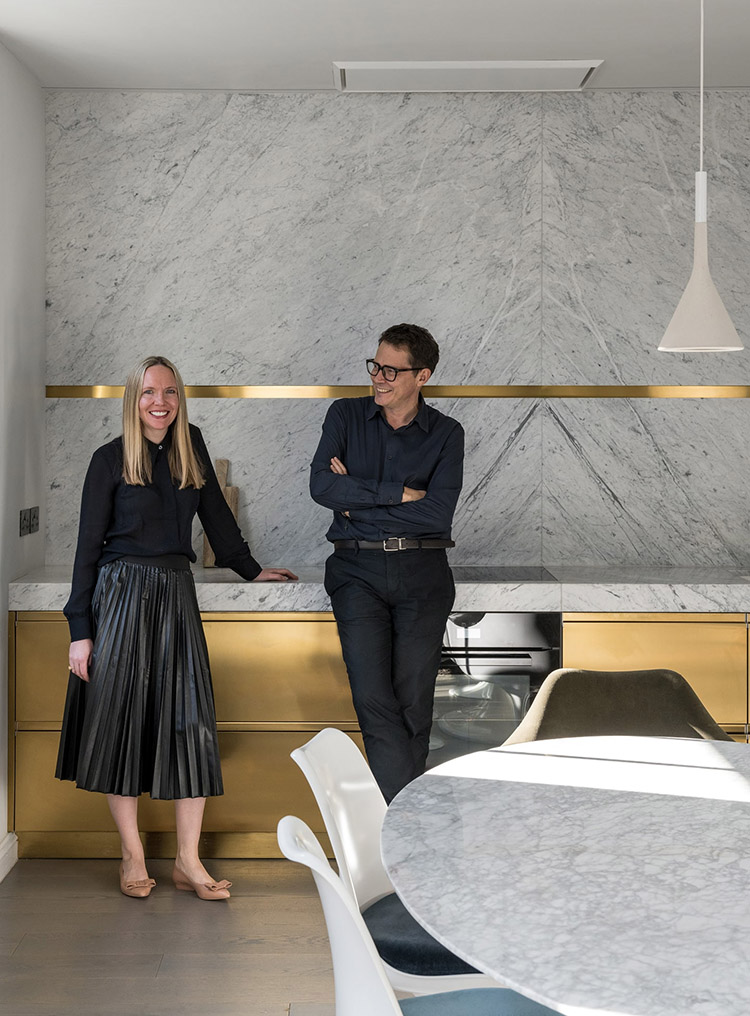 "We moved-in in 2015 after Ben's mother passed away, mainly to look after her cats and sort through the results of a lifetime of collecting art and pottery. We gradually fell in love with it. Ben's family was a family of artists, and all the art around the house is theirs. Most of the furniture is also original – we tried to preserve the house's original spirit." 
The kitchen was a major change. The couple shares a strong passion for Italian design, and Mr. Page admits this is not the first time he has chosen Arclinea: "In the 90s' I had a green Arclinea kitchen in Cleveland Square London, with wooden surfaces. My second Arclinea kitchen was plain white and marble on Sutherland Avenue. This time we fell in love with a Convivium kitchen in champagne pvd finish and Bianco Carrara marble, which I thought might be « over the top » but works perfectly in our dining room; we consider it a piece of art."
In the kitchen area, an open space connected to the lounge, the Arclinea kitchen is conceived as a piece of art, consistent with the house's precious, artistic details. Through wide windows, the sunlight lights up the bronze and marble surfaces, infusing the atmosphere with a golden radiance.
In the house, everything is designed to connect spaces in order to create a fluid environment, but at the same time, every room, every corner, has its own personality. Rooms are full of character, highlighted by the bold colored walls, and the unique pieces of art placed around the house. "We worked with Bureau de Change architects on the design, and Tomasz Stec Construction on the building – it was a year of building work, and a pleasure to see it come alive."
"There's something about the aesthetics of Arclinea, and its quality, that I really like. This is my third Arclinea kitchen."
Ben Page
"My grandparents were artists, and so was my great uncle, and my mother. Their personalities are still quite visible in the house. We've tried to preserve their spirits. It's all about memories."
Ben Page