The spirit of a contemporary habitat continues to be translated through FLEXFORM's outdoor and indoor collections. an all-encompassing style and timeless elegance is embedded into the all-italian company's philosophy through antonio citterio and christophe pillet's fresh, refined designs that enrich any setting, whether that is a living room or a garden.  in relaxing and sophisticated tones and finishes, the drive to innovate the brand's heritage takes form and shape for milan design week 2021.
With some of FLEXFORM's most emblematic products like Antonio citterio's sofas, the indoor collection grows. thanks to its balanced proportions, couture tailoring of the upholstery and handcrafted details, the harper system is more than just for seating. its distinctive saddle-hide-clad console armrests offer various functions, from storing magazines and books to shelves for everyday items. with refined construction details, the product is available in three depths and in an array of colors and finishes that only elevate versatility. resting on a metal base and supported by sleek cast aluminum feet, bretton sofa offers in its turn countless combinations through various finishes and colors. whether covered in fabric or leather, the generously padded cushions contrast the simplicity of the cowhide cladded armrests that bring out FLEXFORM's craftsmanship techniques.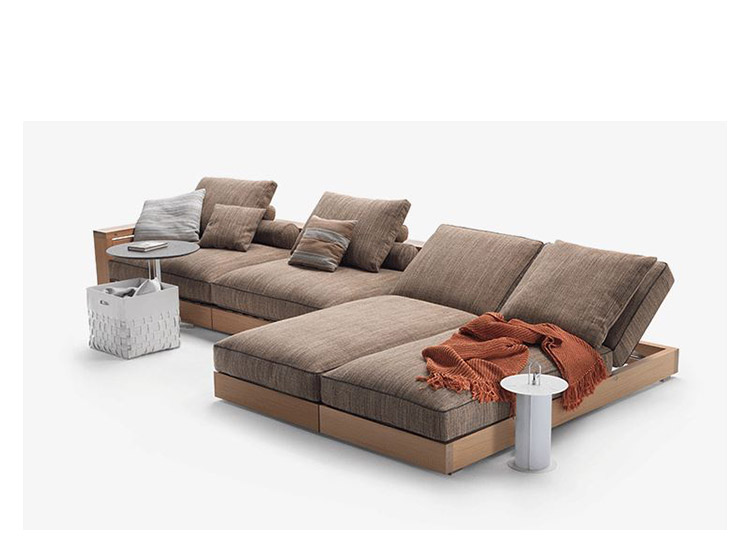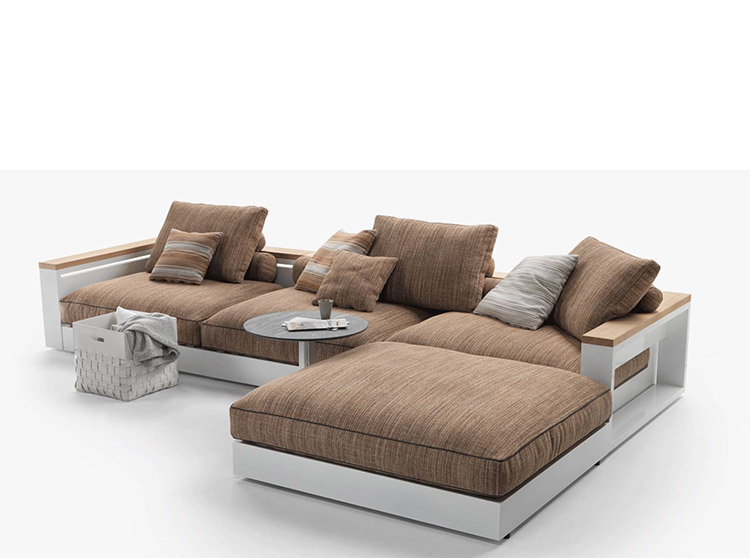 From sofas to armchairs, the collection grows.  antonio citterio's tessa s.h marks conceptual simplicity as a wood structure. made entirely out of solid ash wood, canaletto walnut or mahogany, tessa brings out hand-crafted joinery and finishing techniques of expert artisan skills. dressed in cowhide, the seat and backrest feature high-end stitching underscoring once again the brand's polished results. with the same materials, the designer puts together the lee armchair and settee. in a hand-crafted wooden structure and woven backrest and seat in rush cord, the product expresses excellent resistance.
The final indoors seating product is christophe pillet's echoes s.h. nourished by different ideas and inspirations, the chair family expands. in a sleek metal structure that contrasts the woven paper cord seat and backrest, the armchairs, footstools, chairs and dining chairs, stools and chaise longue are all performed entirely by hand. although complex to put together, the purity of the metal structure and cowhide is an eye-catching combination.
To complement the setting, christophe pillet's any day series of tables dwells in the concept of subtraction. focusing on the precise proportions and execution, the designer strips the product of non-essentials while still defining perfectly the quality of the object. in canaletto walnut, ash veneer or marble, the tops sit effortlessly on the metal structure allowing the client to place it in any desired room at home- bedroom or living room. from the desk's drawers to the cabinet arrangement, the table satisfies many practical needs and configurations. another exceptional product that may be treated as either a table top or a magazine caddy, is the designer's mate. as opposed to the rigid metallic base, the upper part is made out of pliable hand-woven cowhide, giving the product its softer yet practical style.
in inventive style and following pioneering design research, FLEXFORM's outdoor collection is painstakingly developed to maximize sustainability and durability. by making use of modular components, most parts can be recycled when the product has reached the end of its life cycle. thus, wood, steel, aluminum, polypropylene fibers and fabrics are carefully selected not only to pursue stylish comfort, but also to be recovered and re-used.
In clean square lines antonio citterio's freeport system is lightweight, but still extremely robust. the product's aluminum base and epoxy powder coat combined with the grosgrain piping cushions make the pieces especially suitable for outside. along with the sofa, the reclinable and easily stackable daybeds can be integrated into various arrangements by means of fasteners that hook and unhook.
From one seating system to another, citterio's hamptons sofa achieves ultimate comfort and optimal back support thanks to the generously padded cushions. in solid iroko available in natural finish, stained grey or in lacquered white, the family's daybeds offer a warm and flexible performance with a timeless appeal showcasing  the brand's commitment to fine craftsmanship.
adapted from their indoors versions, christophe pillet's and antonio citterio's designs are tailored to fit any setting. imbued with simple geometries, pillet creates echoes outdoor expanding the family of ottomans, chairs and dining chairs, stools and a chaise lounge to include armchairs with and without armrests. the design is based on a bold materiality contrast between the stainless steel structure and the fine woven polypropylene cord of the backrest and seat, available in natural, ice, straw or anthracite colors. equally recyclable, the designer's any day steps outside. expressed in minimalistic lines and available in several sizes, the product's stainless steel structure complements the top in solid iroko that also comes in natural finish, lacquered white or stained grey.
additionally, citterio's lee outdoor models of the armchair and settee celebrate FLEXFORM's traditional methods with artisan-crafted joinery of the solid iroko structures. made to last a lifetime, the seat and backrest are in hand-woven polypropylene cord, available in a contemporary palette of colors paired with the practical, optional cushions.