The showroom/home-hybrid isn't Vipp's first architectural project, in fact, the company has been creating bespoke lodgings to showcase its products while offering a unique hospitality experience under the Vipp Hotel brand, from the Vipp Shelter in the Swedish countryside and The Bolder in the Norwegian fjords, to the Vipp Chimney House, a former pumping station in Copenhagen immaculately renovated in collaboration with Danish architect David Thulstrup. Unlike such projects, in the case of the Vipp Studio NYC, Sofie and Frank have real skin in the game: they get to live there.
Located on the 5th floor of a former factory that dates back to 1883, the 350 square-metre loft was gutted and completely rebuilt to create a bright and airy apartment that embodies Vipp's hallmark qualities – namely, industrial sophistication, minimalist finesse, monochromatic elegance, and exquisite detailing. Blessed with 4-metre-tall ceilings and 17 large windows overlooking SoHo on the one side and TriBeCa on the other, the apartment is swathed in natural light, enhanced by a muted colour palette of white and warm grey tones by Farrow & Ball. What the interiors lack in colour, they more than make up for in texture as the solid oak floor planks and exposed brickwork are combined with Kvadrat curtains, upholstered walls, aluminium cabinets and steel tabletops.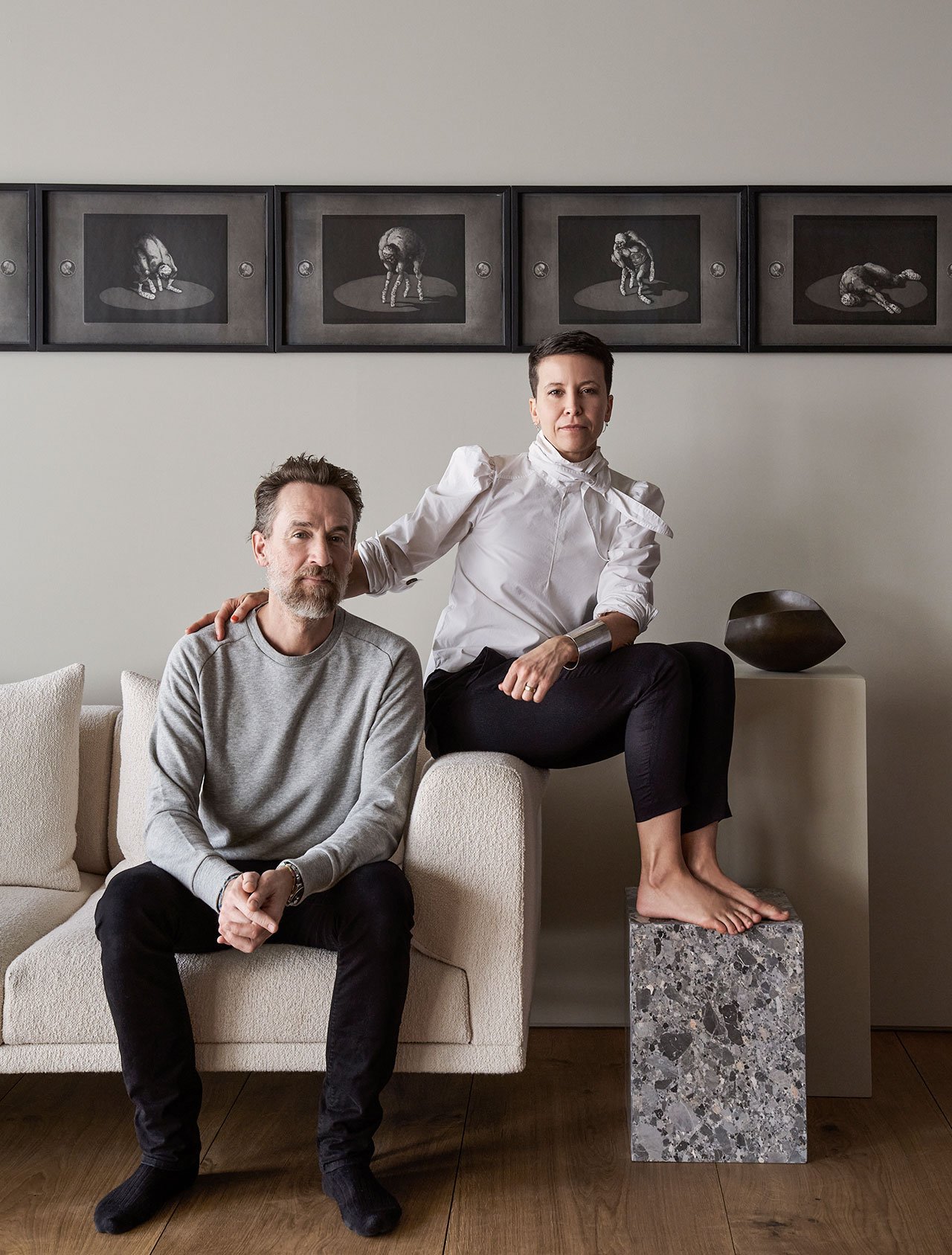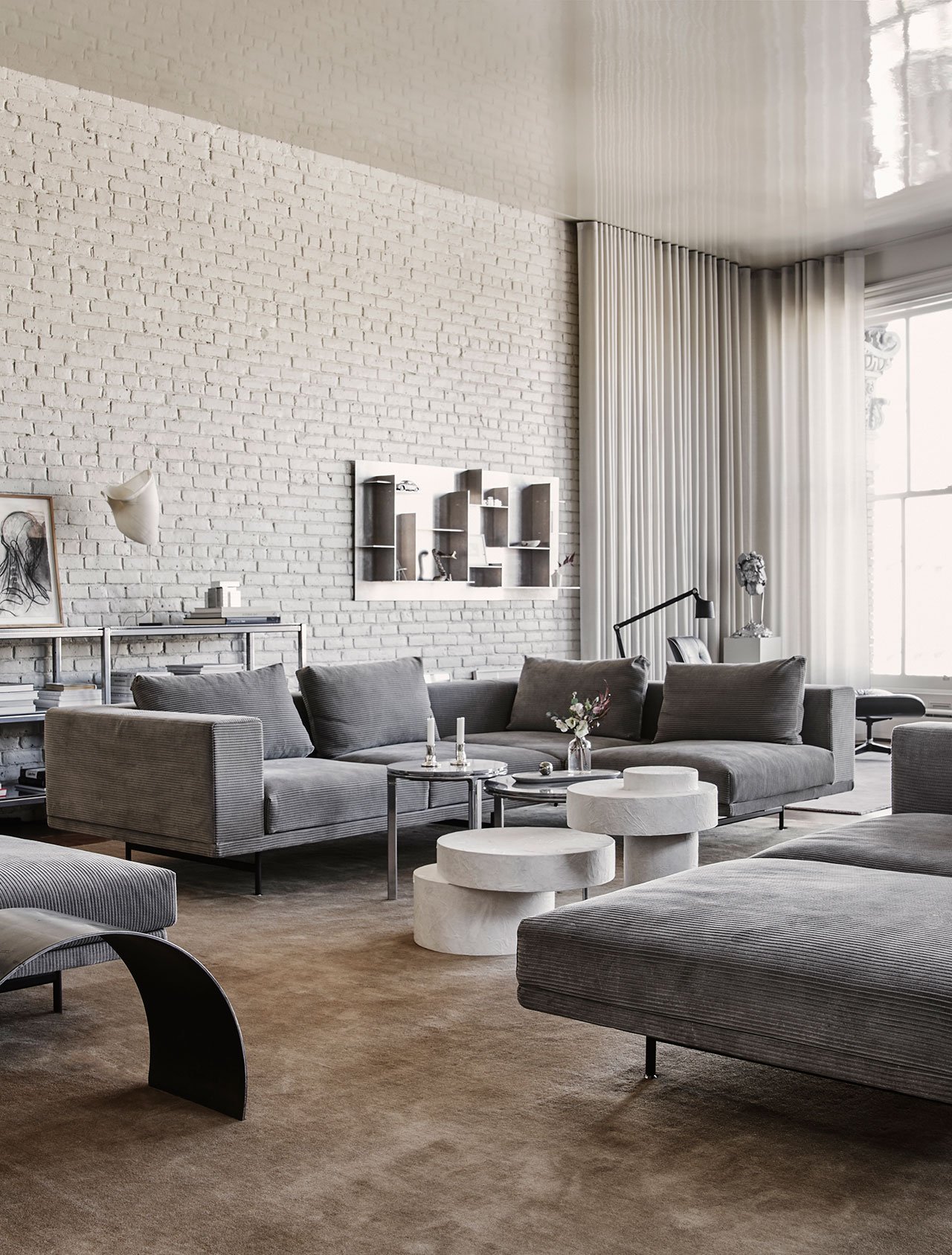 Set across from the entry, the kitchen occupies the heart of the apartment, with Vipp's black modular kitchen system taking centre stage. Two islands, one for cooking, complete with a sculptural cooking hood, and one for dining, equipped with bar seating, are complemented by a backdrop of tall modules and Vipp's open rack system. The minimalist space belies plenty of unique details such as the wall-to-wall clay-coloured extruded aluminium millwork by the Beirut-based Elie Chaker which open up to reveal a bespoke wine-glass oak storage system conceived by Abillama and the Egelunds.
Chaker's aluminium millwork is one of several unique features that make the apartment stand out. A glossy ceiling in the living room mirrors the floor and windows creating a double height sensation; upholstered walls in Kvadrat fabric conceal a built-in workstation in the study and replace the need for a headboard in the bedroom; a curved shower in the master bathroom is sumptuously wrapped in fluted Ceppo stone, while a floor-to-ceiling custom glass partition discretely separately the bedroom impresses with its slender proportions.
As expected, there are plenty of pieces from Vipp's lighting and furniture collections throughout the apartment, from sofas, daybeds and chairs, to mirrors, table lights and spotlights, as well as custom designs not yet in production like the custom version of the newly released Vipp Cabin Table which is made of solid travertine with fluted legs. "We like to test and explore new materials and see how it re-imagines our Vipp products", Sofie explains.
Intermixed with Vipp's contemporary products is a curated selection from the couple's collection of Scandinavian art and vintage furniture that pay homage to the family company's Danish heritage. Such pieces include Alvar Aalto's Armchair Number 31 (1931-1932) for Artek, Hans Wegner's PP250 Valet Chair (1952), and Poul Kjaerholm's PK0 Chair (1952), but perhaps the piece that best encapsulates both the project's hybrid uniqueness and Vipp's storied trajectory is a modest desk in the living room which boasts an exquisite green and white marble tabletop and a metal base that was crafted by Sofie's grandfather, Holger Nielsen, who started the company in the 1930s after designing an innovative steel bin for his wife Marie's hairdressing salon. It may have been quite a journey from Holger and Marie's humble beginnings in the small Danish town of Randers to Sofie and Frank's stunning Manhattan loft, but in some ways, it feels like nothing has changed.