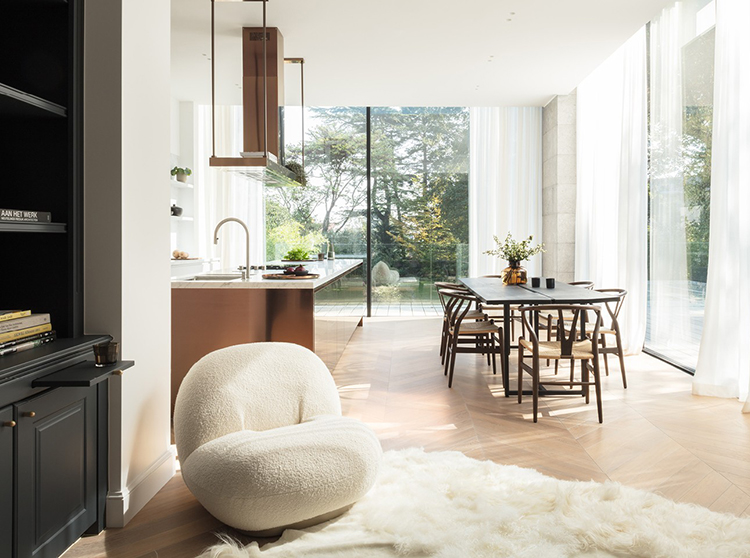 Architecture meets interiors in this project developed by the Arclinea Flagship Store in Brussels. Townhouse DT is an exclusive residential building designed by Juma Architects, a Gent based architecture firm founded by Mathieu Luyens & Julie van De Keere in 2009, with a focus on creating well-crafted and custom made structures. Their aesthetics are modern and minimal with careful usage of light, space, emotion.
Seemless interiors, the kitchen flows into the living room and seems to be connected with the beautiful garden. The model is Convivium by Arclinea: the kitchen becomes the focal point of the space, thanks to its refined, elegant island and single shelf in bronze PVD with hood with remote motor. Satin grey with grooved handle for the doors of the wall of tall units.
The classic mouldings contrast sharply with the stark architecture of the rear façade, whose main function is to let as much light as possible into the house. This was successfully achieved through the installation of 3,80 meters-high 'minimal windows' in the kitchen and living room spaces.
The entire first floor was furnished as a master bedroom with its own dressing room, bathroom and desk and includes an extra space for another room and/or study nook as well. On the second floor, there are four other rooms with ensuite bathrooms.
Ample natural light had to be drawn into the basement level as well, as this space houses a fully equipped spa, replete with a 15,5 meters-long indoor pool, a sauna, a massage room and a gym. Four large skylights cut into the upper terrace floor illuminate the pool. By lowering the terrain, it now seems as if one could swim straight into the garden. This intervention has also made it possible to install large window sections, giving the multifunctional fitness space a better connection with the outdoors.