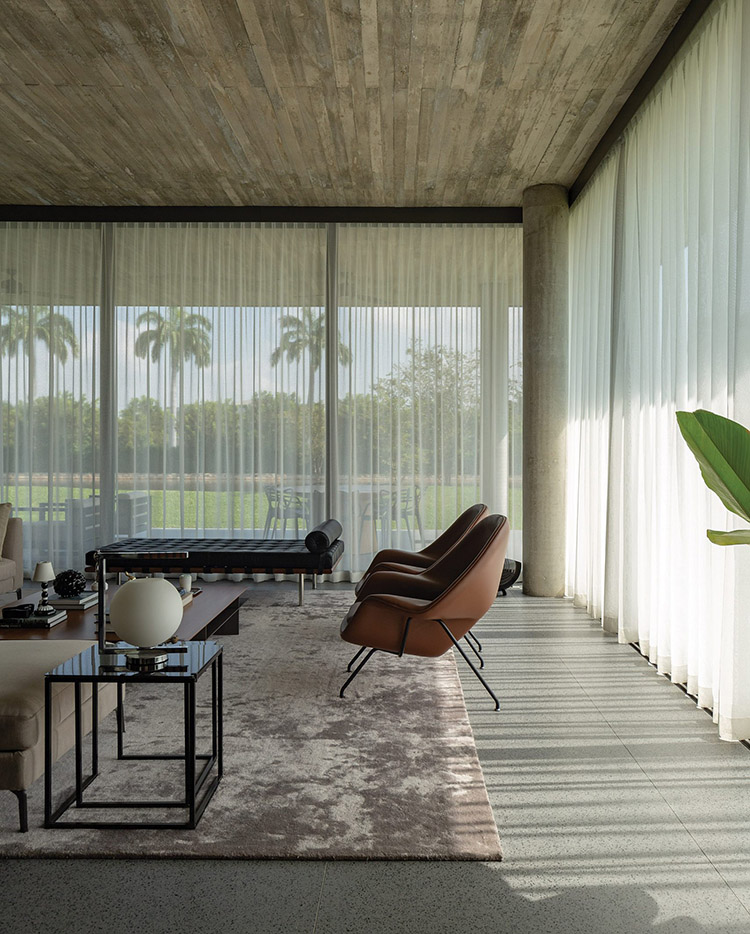 A tactile material palette and floor-to-ceiling glazing characterise this Ecuadorian house, which Jannina Cabal has created for a family of five in the town of Samborondón.
The dwelling was designed by Cabal to be as simple as possible and form a part of its verdant setting, which is bordered by a park and a lake in the suburbs of Guayaquil.
It is composed of two rectangular storeys that are unified by textured stone and dark iron cladding, interspersed with large areas of glazing that minimise the boundary with the outside.
"Looking at nature through glass walls to understand it as part of a whole was the main objective for its design, arriving at architecture of pure lines," said Cabal, an architect based in Samborondón.
"In short, to simplify it to the maximum to appreciate the beauty of the architecture and its surroundings in all its purity," she explained
6M House is entered from a patio that bridges over this pond, which is concealed behind large, iron doors and leads into a concrete hallway that is used to display art.
The hall opens out into a large, open-plan dining and TV room that forms the social heart of the home, and is connected to the main patio outside through sliding glass doors.
All the private spaces in 6M House, which includes four ensuite bedrooms, are positioned on the west side. They are linked to the main living area by a black kitchen, which features a seating area at one end and a spiralling, black staircase at the other that leads to the first floor.
The dwelling's interior design is dominated by a neutral and tactile material palette, which was developed by Cabal to "harmonise with the architecture of the house". This includes exposed concrete ceilings, which extend outside to shelter the patio, alongside grey stone floors, wooden detailing, steel beams and graphite-coloured window frames.
The only decorative elements throughout are classic furniture pieces and artwork from the client's personal collection.
Among the standout pieces of furniture are leather armchairs and a daybed by Knoll, LCW chairs by Charles and Ray Eames and Wishbone dining chairs by Hans Wegner.