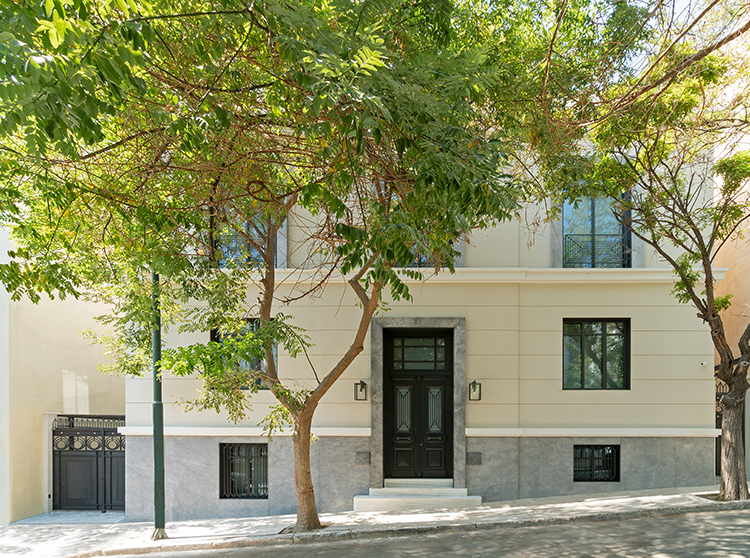 This radical design project on a two level home was undertaken by the Architect, Anastasia
Filippeou and completed in 2019.
Originally built in the 1930's, this home has remained in the same family for three generations. The once homely structure has been transformed into a grander version of its former self while retaining its inherent character.
The original double door entrance leads us into a marble floored foyer and staircase to the upper levels. The traditional high ceilings set the stage for a luxurious minimal aesthetic employed throughout the design.
A play on contrasting neutral shades, pale floors in wood and marble, high end materials and furniture by Cassina, Georgetti and B&B Italia ensure that the best of international design features are included in the fittings and furnishing of each and every space.
The hub of most family homes is the kitchen and this design is no exception. The kitchen and
dining areas occupy a generous elongated space beginning from the dining area with a circular table and comfortable armchairs and leads through to the practical aspects of the kitchen. Furnished entirely by Boffi, towering dark storage cabinets are flanked by a central island. The island is dominated by a suspended stainless steel hood which covers both the range, work space and breakfast bar.
Dark marble and light floors continue the contrasting colour theme.
The area is illuminated by strip led ceiling lights and natural light enters from the garden view at the opposite end of the room.
As in any Athenian home, outdoor space is a desirable element. In this case, the original plot included a rear garden. This area has been landscaped to include separate seating and dining areas. An additional benefit to this outdoor space is the upper deck which enjoys a  spectacular view of the Acropolis.