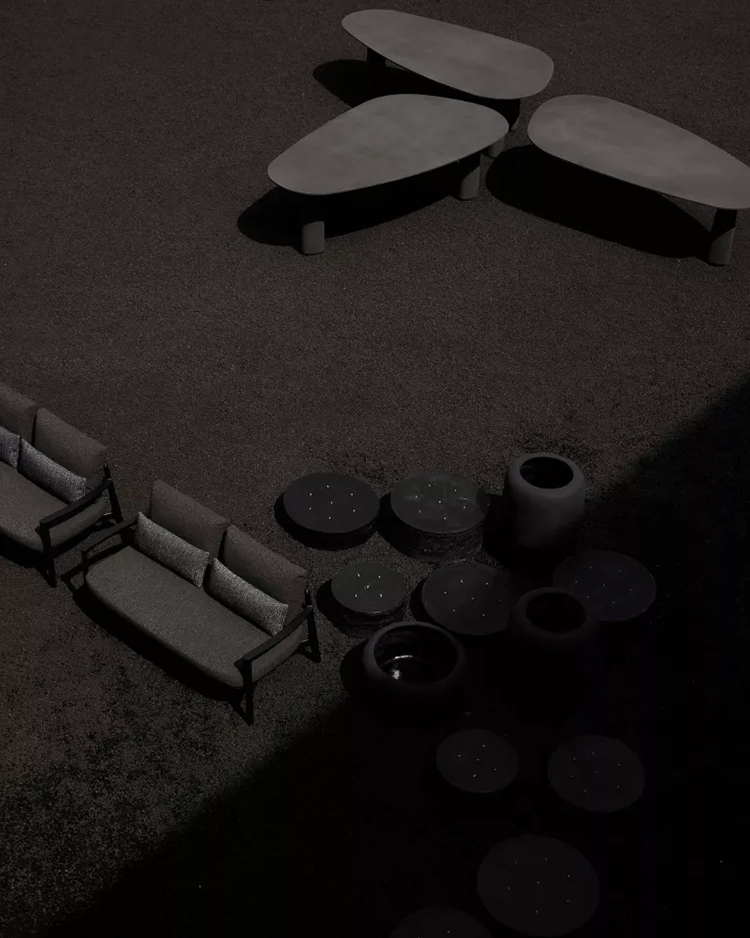 During Salone del Mobile 2023 in Milan, Poliform unveiled Percezioni, a multisensory installation created to introduce its new outdoor furniture collection, transforming one of the most evocative locations in Brera into a universe of calm and beauty amid the usual Fuorisalone chaos.
Poliform outdoor collection within the cloisters of San Simpliciano
The floor of the 15th-century architecture of the San Simpliciano cloisters was covered in black lapilli (volcanic rock fragments), while emerging Italian composer Caterina Barbieri's symphony Perennial Fantas immersed visitors in a meditative musical space. The installation was inspired by a contemplative relationship between humans, nature, and the landscape – a reflection that also influenced the design of the new outdoor collection, including sofas, armchairs, tables and accessories designed by Jean-Marie Massaud, Emmanuel Gallina, Marcel Wanders and Soo Chan, as well as the Land outdoor kitchen.
The music was created to complement the subtle but distinct sound made by visitors as they slowly walked on the stone chippings, while the new pieces featured in the installation, with their innovative dark iroko wood finish, blended perfectly with the stones. The setting also allowed attention to be focused, celebrating the details and craftsmanship without distraction, according to individual perceptions.
Among the various products interpreting Poliform's alfresco lifestyle vision was 'Mad Out', an extension of Marcel Wanders' 'Mad' collection, with the iconic soft, curved lines adapted to suit the outdoors. Despite the obvious connection, it is clear that 'Mad Out' is intended for open-air environments: Wanders designed a range of pieces that are not only stylish but also durable and functional, to ensure longevity and allow use in different weather conditions. With the tubular backrests embraced by hand-braided rope, there is an obvious transparency characteristic in the enveloping seating, a light effect that maintains the style of the archetypal indoor armchair while functionally allowing air and light to filter through.
The 'Mad Out' series, which is available in three colours (cream, brick, and brown), includes a three-seat sofa, an armchair, and coffee tables with lava stone tops that can be decorated with a glass powder decoration.