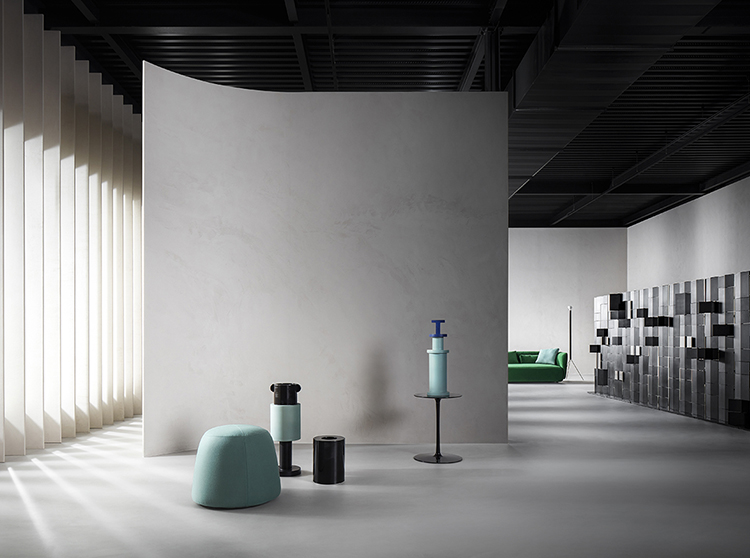 Aiming to launch a new corporate image, the architectural design of the MDF Italia Headquarters in Mariano Comense is gaining a new exhibition area. In perfect harmony with the MDF Italia collection and philosophy, the Israeli Pitsou Kedem Architects Studio has designed a dynamic yet cosy ambience made up of interactions between solid volumes and soft filters measured in space. The undulating, sensual shape of the walls invites visitors to move around, inspiring them to touch and interact directly with the furnishings.
"We used the sensuous and wavy form of the walls to outline spaces and at the same time to invite the visitor to move across and visit them"
said architect Pitsou Kedem.
Clay was used as the only finish of the architectural elements to enhance through its materiality the peculiarities of the displayed products.
400 square meters to tell through design four different living proposals that welcome the novelties of the collection: Random Wood bookcase in canaletto walnut, Neil Leather, 20.Venti Home Light, Divide IT and NVL Table in a lively coral red shade.
Even the styling, curated by Paola Pastorini, proves the continuous evolution of the brand: characterized by hints of full color and intriguing contrasts, it dialogues with the surrounding environment for a result of great refinement.
This setting hosts also the first Acerbis collection – brand of MDF Italia since 2019 – curated by the new creative direction of Francesco Meda and David Lopez Quincoces.​