M/Y Dragon is an exceptional new yacht from Italian firm Columbus Yachts, a Palumbo Superyachts brand. Its 80-metre-long span is a finely engineered balance between generous deck spaces and a sleek profile. The advanced naval engineering is by Hydro Tec Studio, who also designed the yacht's exterior.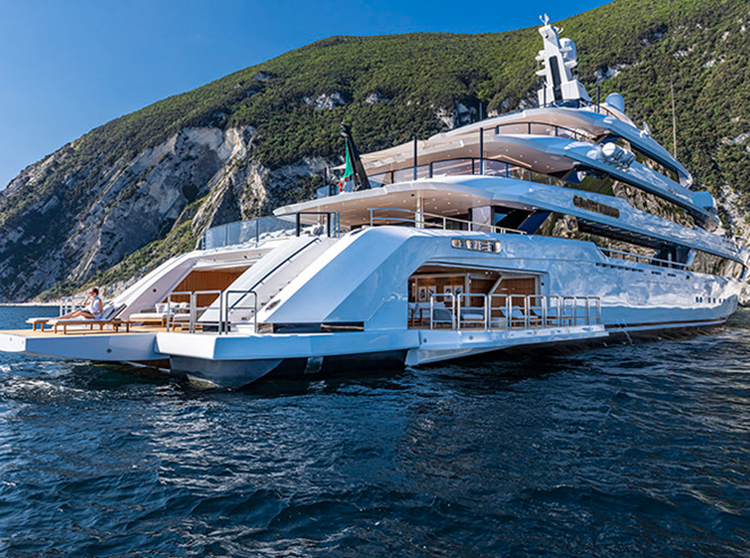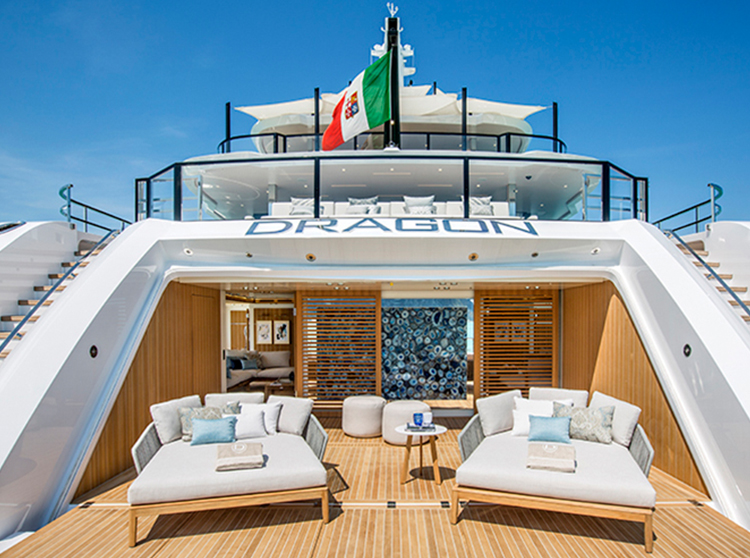 Ultimately the classic modernity of the interiors find the perfect continuity in the exterior areas creating the "timeless relaxing atmosphere" the owner requested." – Francesco Guida.
For the main living rooms and bedroom suites aboard Dragon, Guida worked with a subtle palette of pale wood, cream and accents of bronze and brushed gold. Moving to the open decks, Guida kept to these pale tones, echoing them in his choice of white Pure sofas and teak Mood low tables. Three Pure sofas are used to frame the aft cockpit, where Mood armchairs with stone grey woven back-rests line the 14-seat dining table.
When Dragon is anchored, additional sun-trap decks open out at the bow, furnished with Mood daybeds, Vis à Vis loungers, poufs and Ilse side tables. Vis à Vis loungers also line the spectacular sun deck. Tribù's sun- and sea-spray-proof fabrics and all-weather teak retain their good looks whatever the conditions.
Across the width of the teak bridge is the 200-metre-square 'beach club', a cocktail bar with a stunning backlit blue agate wall panel and a chic seating area, open to the breeze. Here, Mood bar chairs are paired with Pure sofas, Mood low tables and poufs to create a flexible, relaxed club atmosphere.  
As well as five-star accommodation, Dragon contains a lift between decks and, on the sun deck, a 7-metre long tiled pool with a blade waterfall dividing it from a whirlpool.
Inside the yacht's garage is a host of 'toys' including two tenders and three jet skis.
Sophisticated and exclusive, Dragon is a showpiece of Italian design and precise manufacturing. Tribù's contemporary Belgian design is the perfect complement, blending fine workmanship with luxury living.
M/Y Dragon receives its premier at this year's Monaco Yacht Show, September 25–28, Port Hercules, Monaco.