Arclinea's new 3000 sq. ft space at 146 N. Robertson Boulevard sits among the rich tapestry of the West Hollywood Design District, world-renowned for shopping, dining and a vibrant entertainment scene. It neighbours retail locales Melrose Avenue and the Sunset Strip, and is only a stone's throw from Los Angeles County Museum of Art. The showroom illuminates Arclinea's signature fusion of creativity, craft and conviviality, showcasing four kitchens that each bring to life a dialogue between the joys of food, cooking and sharing.
Upon entering the new showroom, the eye is drawn to an elegant of the Lignum et Lapis — instantly recognisable by its sculptural profile. An island Mars polished quartz is joined by Lignum et Lapis staved doors in matt lacquered greige, with new PVD black integrated handles. Matt lacquered greige wall units offer a bold contrast to the dark tones of the island.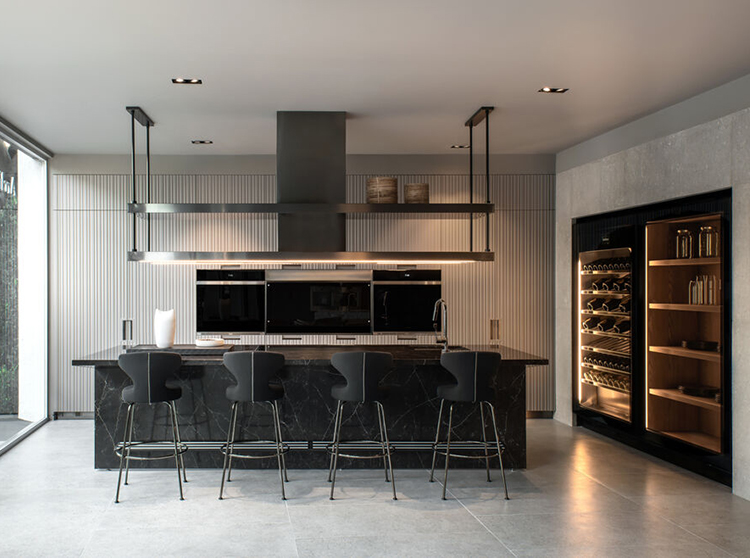 The most iconic composition of Convivium emerges with an elegant island in PVD bronze, a polished Calacatta marble worktop and an integrated Era System table in NTF fumé oak. Principia tall units in the same finish are intersected by a second kitchen station conceived to match the island.
The refined modernity of the Thea island takes prominence in the space, featuring the Canto snack in black PVD and a polished Neptune quartz worktop with waterfall.
Finally, the striking vintage stainless steel Italia configuration pays homage to a classic chef's kitchen with details such as the integrated Italia handle catering to residential architectural details.