Designing and manufacturing some of the most iconic pieces of furniture for the last 80+ years, KNOLL always needs to strike a timeless balance between modernity and tradition with its creations. the american brand's complete KN collection, designed by italian architect piero lissoni, finds this equilibrium. its contemporary language pays homage to the classics yet is modern always. the long-term collaboration pairs elegance and poise at home in living rooms and studies, or in large collective contract spaces, such as waiting rooms, lobbies and informal offices.
First unveiled in 2018, the KNOLL KN collection has grown up into a family of soft seating with a signature style. a smooth, curved shell is the common dominator throughout, creating a fluid and minimalist design. an extensive assortment of materials and finishes add further character to each item as well as accentuating its versatility to fit different living spaces. the seven collections include a lounge chair, high back chair, ottoman, armchair, settee and soft seating solutions.
With the start of the knoll KN collection, the KN01 lounge chair as well as the KN02 high back chair and KN03 ottoman brought ample form. KN01 introduces the family's characteristic shell structure. the high back chair, with a headrest and built-in control for adjustment, offers a reclining and tailored soft seating setting. its manoeuvring mechanism is hidden underneath the upholstery. the KN03 ottoman is paired to accentuate its comfort further.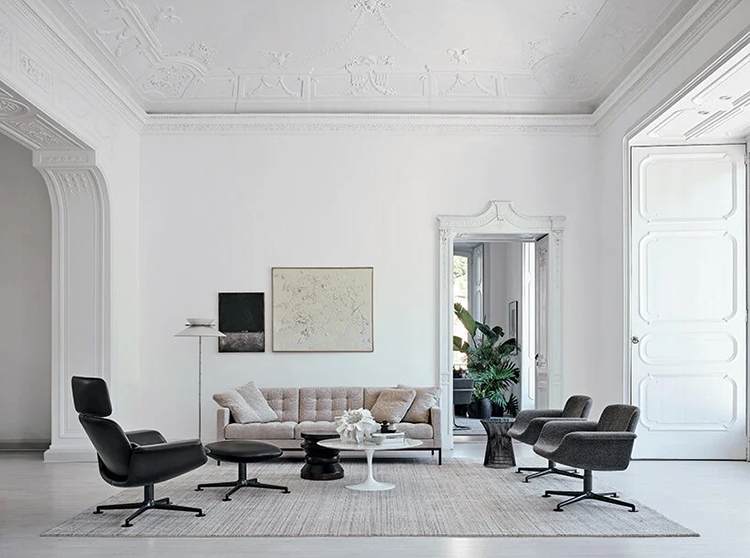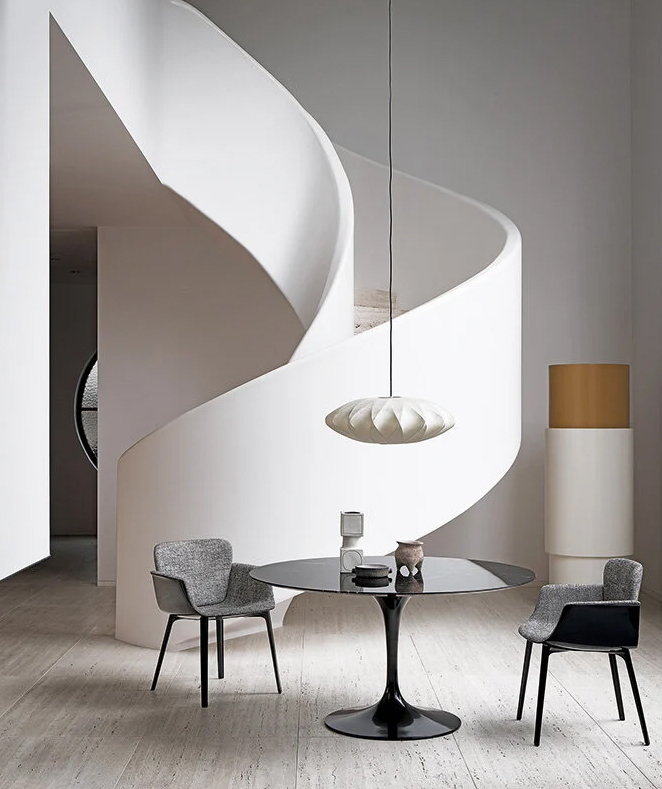 With more relaxed proportions, the KN04 armchair and KN05 settee were introduced in 2019. the two seats are positioned lower and with a more reclined orientation, perfect for moments of personal time at home or in collective spaces. the distinct fixed structure, made from chrome-plated or coated metal rods, complements the slim upholstered, polyurethane shell. as the middle children of the collection, the designs continue the family image with curved, elegant and instantly recognizable forms.
2021 saw the completion of the KNOLL KN collection with the KN06 armchair and KN07 chair. both reflect a shift in habits at home, bringing comfortable yet elegance designs into the home office and study corners. the armchair's characteristic fiberglass shell can be coated in glossy white or black, or dressed in a choice of fabric or leather upholstery. inside, the slim structure becomes even more welcoming and enveloping thanks to a soft seat cushion. the armless chair can also be dressed in a choice of fabric or leather. its design is seamless as the inner and outer surfaces of the seat join in a single soft, fluid line. both furniture pieces sit atop four fixed legs or height-adjustable swivel base.