Deloudis and Cassina are returning to their roots. In downtown Athens at the shopping area of Kolonaki, at the first store at 3-5 Speusippou Street, their collaboration is sealed, opening the house's monobrand.
The 310m2 space was completely redesigned by the Cassina team under the supervision of Creative Director, Patricia Urquiola. The store is divided into three levels. The color palette of the spaces is fully harmonized with the respective collection. In the main entrance area, we are welcomed by iMaestri collection, with pieces from their iconic collection such as the Chaise longue à réglage continu by Le Corbusier, the Nuvola Rossa bookcases by Vico Magistretti and the velvety Tre Pezzi by Franco Albini. Man Ray's iconic "Les Grands Trans – Parents" mirror filters its reflection through the screen printed glass.
On the right is the Esosoft sofa by Antonio Citterio and on the left there is a special emphasis on the Sengu collection with the sofa and dining table, flanked by the unique Dudet armchairs. Next to them is the Utrecht armchair by Gerrit T. Rietveld.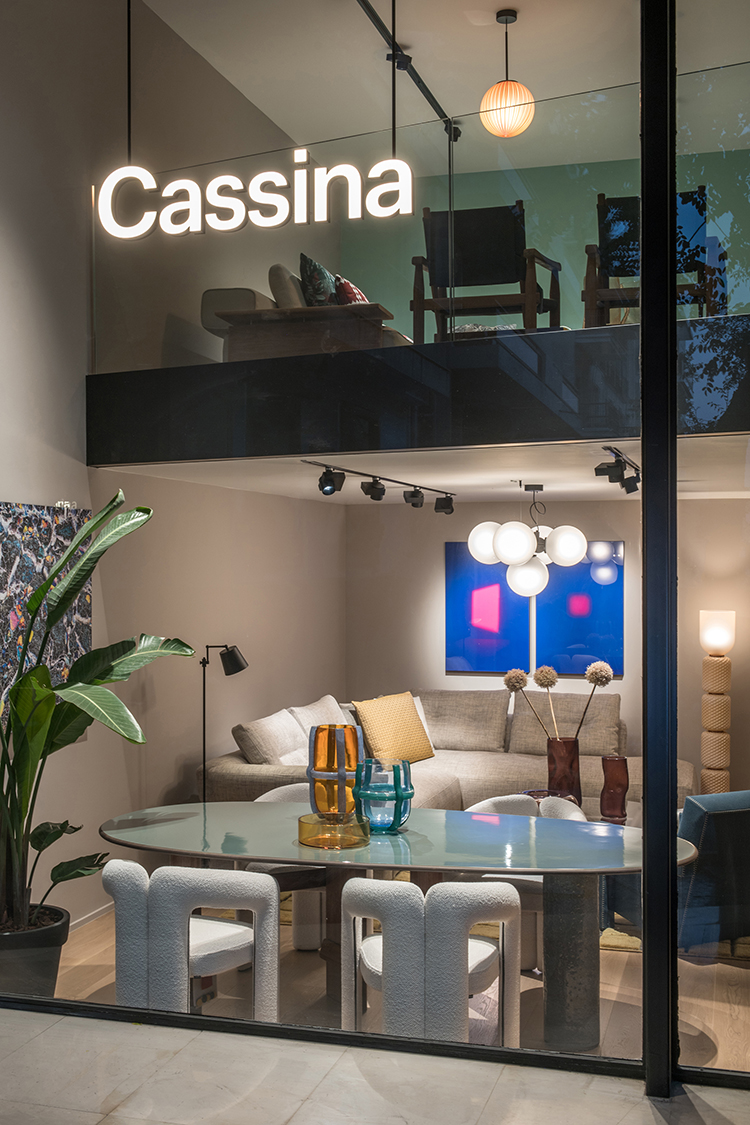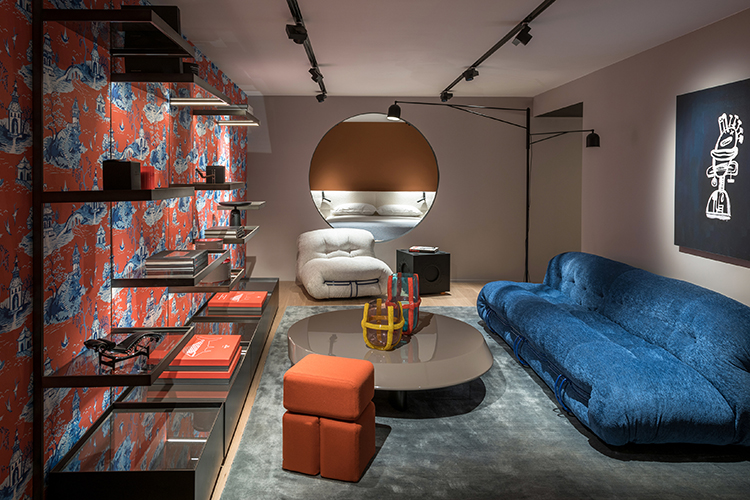 Downstairs the eye is disarmed with the Ghost Wall system, which looks like an optical illusion. The Soriana sofa and armchair by Afra and Tobia Scarpa with their sophisticated comfort brings to mind the 70s.
The intelligent internal round window changes the perception of the size of the space, while it leads us to the bedroom with the wonderful Biombo king size bed. The L'Ambassade screen artwork with 331 wooden blocks by the great lady of design, Charlotte Perriand, steals the show. The Long Plane table by Rodolfo Dordoni with its impressive aesthetic balance is framed by the Flutz chairs by Michael Anastassiades. The lower space is completed with the versatile Milloe sofa by Piero Lissoni.
Upstairs, the atmosphere is differentiated with outdoor furniture. The Trampoline, Dine Out and Sail out collections with their earth, air and water colors take us on a journey.
In the showroom you can discover the Cassina Details series, with accessories, lighting and complementary pieces, as well as the Danish Karakter.
As Patrizia Urquiola explains "Cassina's monobrands are neither houses nor showrooms – They are meeting points for clients and architects. It is a place to communicate and listen to our audience. It is the home for Cassina fans and new Cassina enthusiasts. It is the house of research".
Deloudis – Cassina Showroom: 3 – 5 Spevsippou, Kolonaki, tel. +302130 908907