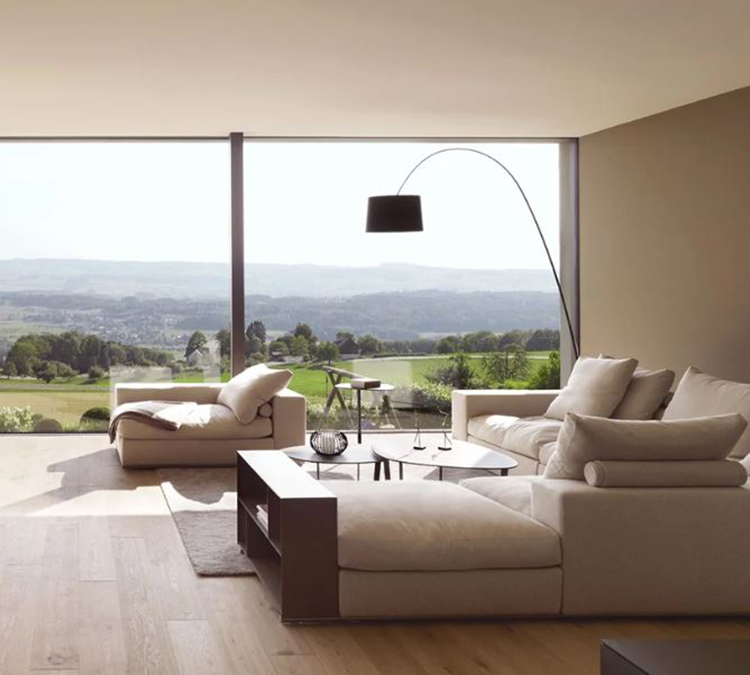 Although conceived in 2001, the FLEXFORM groundpiece sofa remains a best-seller for the italian furniture brand. maestro antonio citterio designed the piece in a way that transformed the very concept of the sofa. it reflected the changes of behaviour and aesthetics in our home, offering unprecedented levels of flexibility, from usage to configuration, and all in typical italian-made style and comfort. as its 20th anniversary approaches, the design still revels as the sofa for the modern home.
Penned with deconstructed lines, the form of the FLEXFORM groundpiece sits very low and deep to offer a more relaxed and casual approach to seating. as such, the design makes the sofa less formal. its depth is lavished with moveable, amply-sized goose down-filled cushions to deliver the comfort, cosiness and welcomeness that embodies the brand.
The informality of the sofa also enables the design to cater for new functions. as our behaviours at home constantly evolve, especially in a more digital world, the groundpiece seeks to cater for rest, watching TV, reading but even working and dining on our sofas. as such, the armrest concept was redesigned. customers can choose either a padded and upholstered armrest or one that is a cowhide-clad metal console, which resembles a low storage element. the latter can be used as a flat surface above and a handy shelves system below.
Whereas before a sofa had one use within an interior, the FLEXFORM groundpiece grows into part of the fabric of a home. it is an architectural piece that enables many activities. the shelving system creates new functions for those sitting on it, and creates new possibilities for space around it. likewise, its multiple configurations, from the two to three-seater and footrests, tailor it to your space perfectly. to sum up its versatility, the backrest could be with or without roll and the cushions could be in dacror or down-filled.
'the combination of rigorous cowhide and down-filled cushions is the secret of this timeless balance,' concludes antonio citterio.