Comme des Garcons designer Rei Kawakubo has created the costumes for a Vienna State Opera production of Virginia Woolf's Orlando.
The costumes for the production, which premiered on 8 December, follow a presentation of ideas at Paris Fashion Week in June, and a Comme des Garcons clothing collection in September.
All three were inspired by the early-20th century modernist novel Orlando by British writer Virginia Woolf.
Costumes designed for the opera include an outsize three-piece tartan suit and a pin-striped short suit with exaggerated shoulders, worn with a ruffled white shirt and necktie.
Other cast members wore richly coloured thick-striped suits with dangling fabric panels or velvet robes complete with tassels. One white dress was covered entirely with bows, whilst elsewhere a red damask 18th-century-style dress featured a skirt with red polka dots on a black silk background adorned with black appliqué flowers. A black damask morning suit featured the folded origami-like surface decoration seen in some of Kawakubo's previous designs for the Japanese fashion label.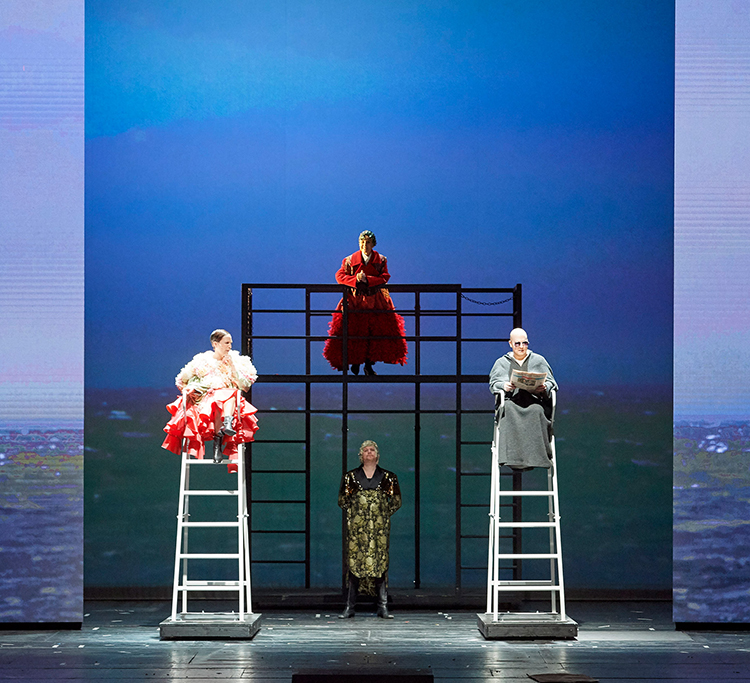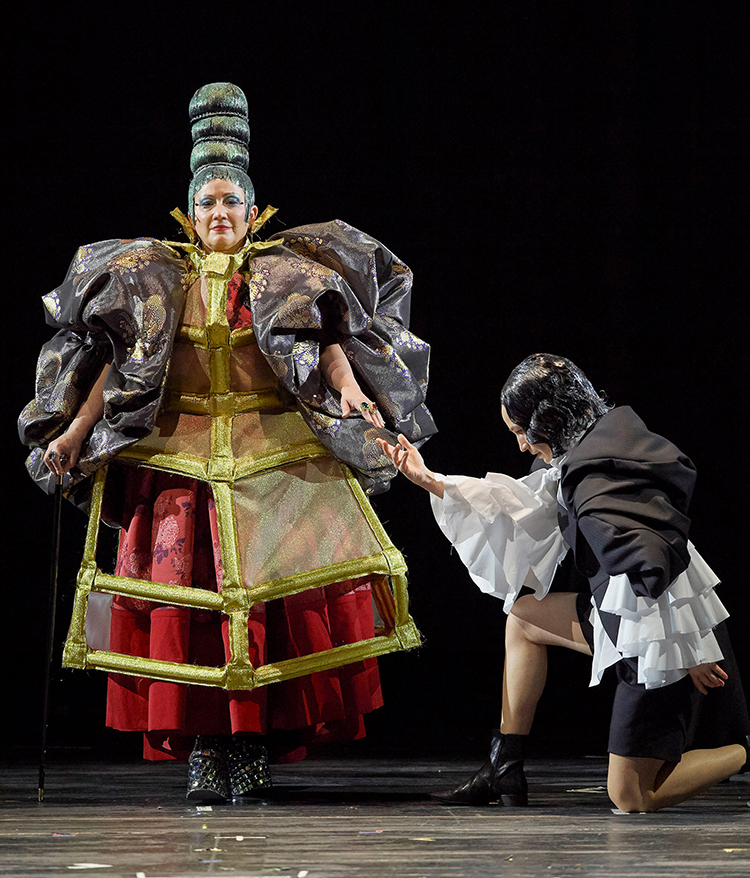 Kawakubo told in an interview that Comme des Garcons is "nothing about the clothes".
"I have always started from zero, trying to make something that didn't exist before," she told Dezeen at the time. "The process of creation is done mostly by words and imagination."
Extravagant wigs were created for the show by hair artist Julien d'Ys. Some were pink and glittery, with others piled up on top of the wearer's head to form a stack of buns, or covering the wearer's ears.
The opera version of Orlando was commissioned by the Vienna State Opera from Austrian composer Olga Neuwirth, with a libretto by Franco-American author and playwright Catherine Filloux.
"I was intrigued to find out that the very conservative, traditional and primarily repertory opera house had commissioned an avant-garde de woman composer to write an opera to celebrate their 150 year anniversary," explained Kawakubo.
"Of course the fact that the subject was the ground breaking and timeless novel Orlando only attracted me more."