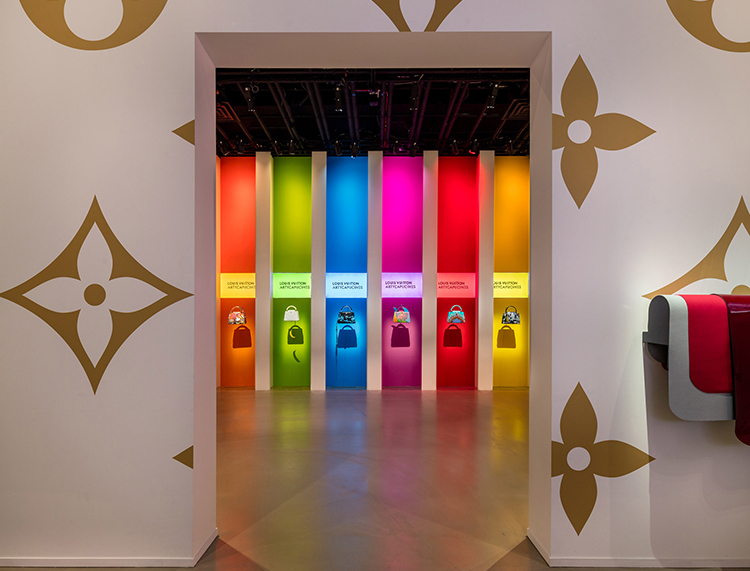 Located at the prestigious address of 468 North Rodeo Drive in Beverly Hills is the Louis Vuitton X exhibition. A retrospective of collaboration with global artists and designers over the past 160 years, it includes a selection of custom made bags in addition to a tropical pop-up shop.
The 180 items from the archives of this world renowned French brand are exhibited in 10 rooms, each one individually presented in a myriad of colours and designs.
Colour and light play a significant role within the design concept, from black walls with the glowing LV logos to pristine white walls and an unexpected attack on the senses in another room with its psychedelic fluorescent hues.
Artwork, checkerboard and pastels, brilliant ocean views and the LV logo add to the fascination in the various spaces. A number of artists and designers, including Karl Lagerfeld, Zaha Hadid, Rei Kawakubo, Yayoi Kusama, Cindy Sherman and Frank Gehry, to name but a few, have collaborated in offering their personal take on the classic design of the LV Monogram leather duffle bags.
The presentation of LV's latest Art Capucine collaboration is a not to be missed feature of the event. A collaborative project with six contemporary artists, resulting in the production of custom designed capucine bags for the brand. Sam Falls, Urs Fischer, Nicholas Hlobo, Alex Israel, Tschabalala Self and Jonas Wood, each created a design, a contemporary interpretation of the classic piece.