British designer Tom Dixon has unveiled Twenty at Milan design week, an exhibition exploring two decades of his work that includes a chair made from eelgrass and furniture that has been "grown" underwater.
Showing at the Palazzo Serbelloni, an 18th-century Milanese palace that houses auction house Sotheby's, the exhibition celebrates 20 years since the designer launched his eponymous studio.
It comprises 20 of Dixon's designs, some of which have been altered and updated. These include the S chair, originally made from recycled rubber tires and eventually produced by furniture house Capellini in reconstituted leather and textile.
Here, it has been given a shiny latex cover that the designer worked on with rubber couturier Nange Magro.
Also on show are an upgraded version of Dixon's Bird chair made from eelgrass – a type of seagrass – as well as towers made from mycelium and scented with Dixon's new fragrances Root and Underground.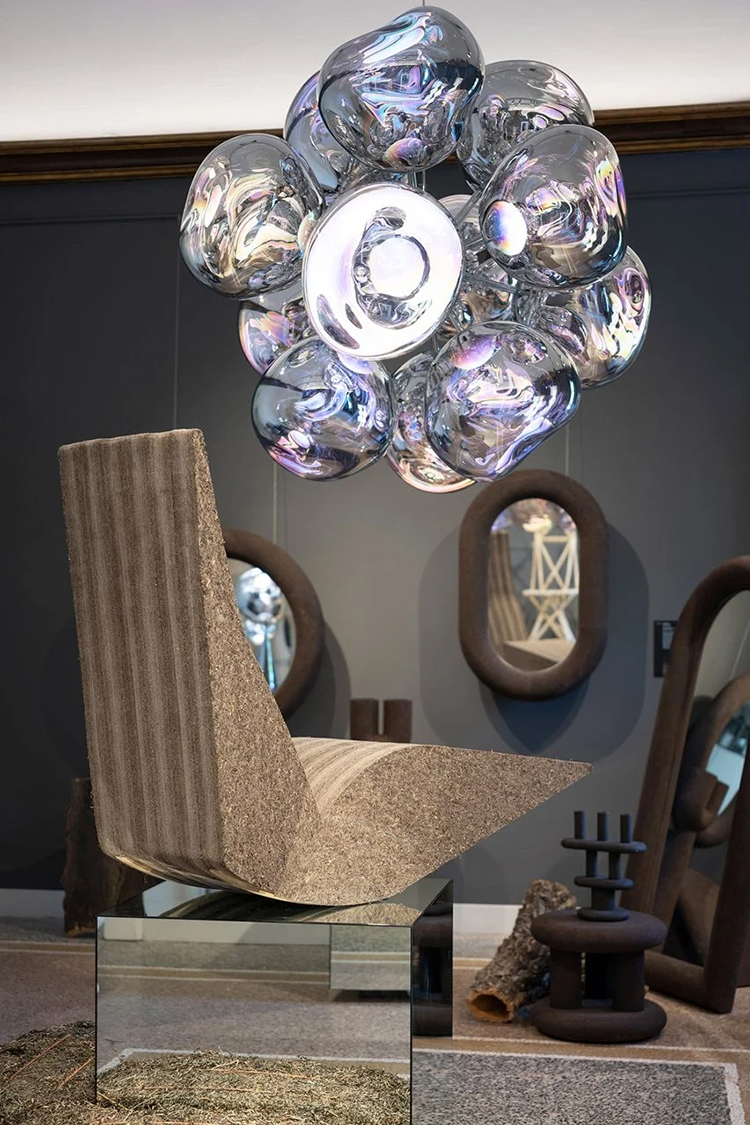 The exhibition has a firm focus on materials, which is an important aspect of Dixon's designs and one that he continues to explore.
"There's a lot of new material research going on, but there are very few things which are mature enough to compete with the old materials that are done in huge bulk," he told Dezeen.
"But that equation is changing."
One example are his mycelium towers, a concept the studio is working on that was informed by packaging design.
"What's interesting right now is probably new ways of working with old materials and it's not like mycelium is new," he said. "It's just it's never been used in that way, and the innovations can also come from odd places."
Dixon is also currently looking at the digitalisation of manufacturing, which he believes is really changing the design industry.
"What's been interesting is the digitalisation of manufacturing," he said.
"Everybody talks about rapid prototyping, but for many years now, the digitalization of metal bashing for instance – robots that punch [metal] – that flexibility of manufacturing digitally reminds me a bit of what's happened in the music industry where you can now make an album on your laptop," he added.
"So in principle, designers can have a proximity to the means of industry which they previously couldn't. You can be a kind of bedroom designer brand and manufacturer in a flexible way with low tooling costs."
While Twenty features designs that are recognisable to people who are familiar with Dixon's work, it also showcases the more experimental designs he is currently working on.
Among them is Accretion, a metal chair designed to be "grown" underwater.
Based on a proposal by scientist Wolf Hilbertz for growing whole cities underwater, a small amount of low-voltage current is passed through the metal framework of the chair. This leads to mineral accretion – a chalky deposit begins to grow on the chair at an accelerated rate.
Dixon's studio, which has three Accretion chairs growing underwater in the Bahamas, hopes this could be a way to capture carbon and re-generate the world's disappearing coral reefs.
"By putting electricity through a kind of metal structure and that metal structure accumulating calcium carbonate, it starts allowing you to regenerate coral reefs, and coral grows three times faster on these structures than it does in normal water," Dixon explained.
"It's been shown that these kinds of semi-transparent structures and specifically coral slows down the waves and slows down beach erosion," he added.