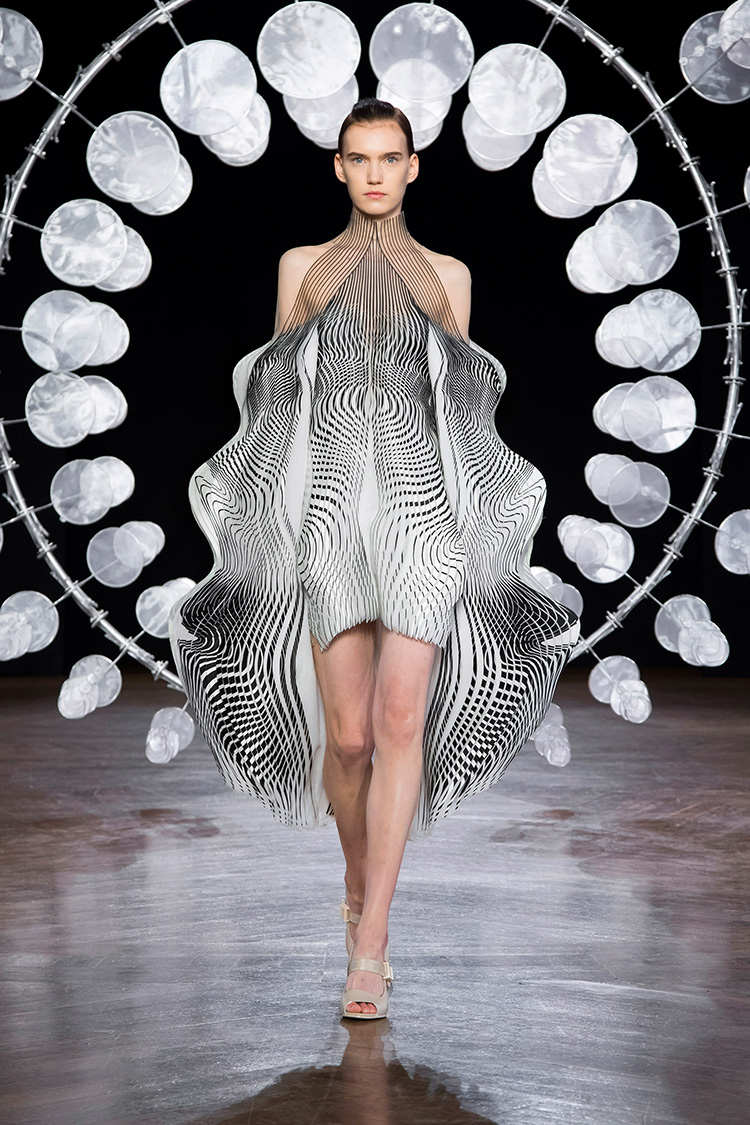 The Fall 2019 collection of Dutch couturier, Iris Van Herpen was shown at Elysee Montmartre in Paris for Haute Couture fashion week. Entitled Hypnosis, inspiration was drawn from the kinetic sculptures of American artist, Anthony Howe.
The key word of the 19 multilayered creations, a result of computer programming, physics and a touch of magic, was movement. Sophisticated fabrics, silk organza and duchesse satin are supported by elements of aluminium and steel. Van Herpen adopted the ancient silk moire weaving technique for the collection, using multiple layers of rippling fabrics, culminating in a shimmering, ever undulating effect to mirror 'the beauty and complexity of our environment' through the delicate organic structures, a 'hypnotic visualization of nature's tapestry, the symbiotic cycles of our biosphere that interweave the air, land and oceans' said Van Herpen.
On the runway, the models passed through a spherical omniverse designed by Anthony Howe. Through metal rods and circular silk discs, the kinetic structure represents a 'universal life cycle' as in man's relationship with nature.
The 'hypnosis' technique was developed in collaboration with experimental sculptor Philip Beesley resulting in the signature theme of movement. The most spectacular piece of the collection being the Infinity dress, presented during the show's finale. The metal mechanism and multiple layers of feathers produce an inexplicable illusion, an ethereal vision, undulating as though it had a mind of its own.
Amongst other design features is the 'floating ink' or suminagashi, marbling art of Japan, which allows garments to appear to be flowing over the skin of the models. Indeed a 'hypnotic' collection which lived up to its name in every sense of the word!