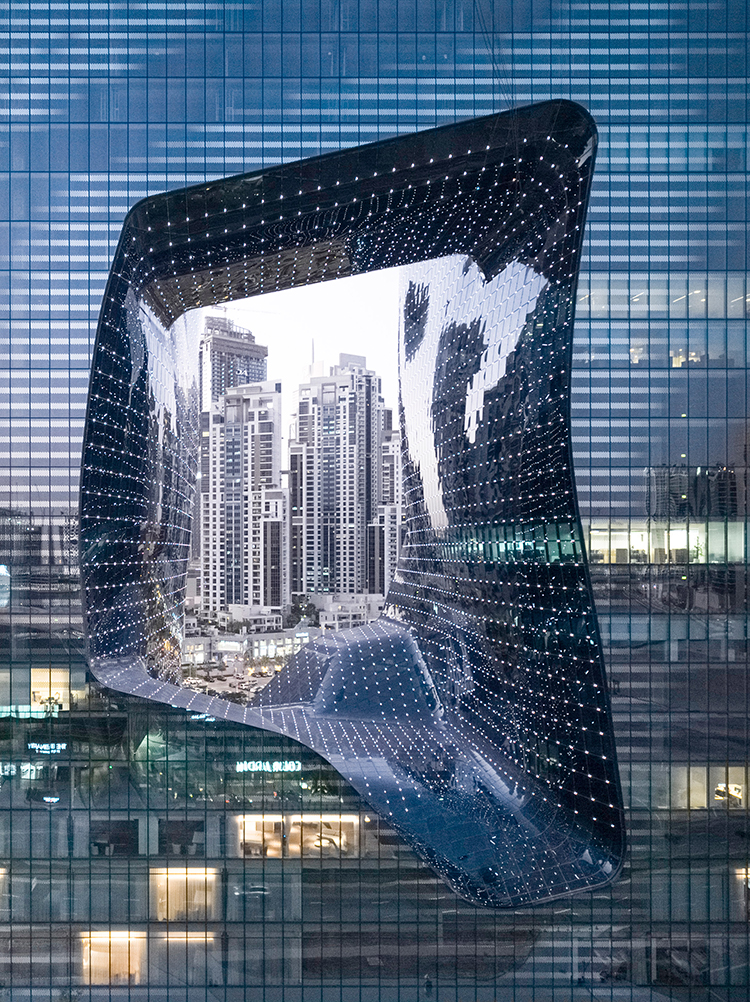 Set in Dubai's Burj Khalifa district, the Opus is a mirrored glass building occupied by a hotel, offices, serviced apartments and several restaurants.
Completed externally last year, the ME Dubai at the Opus is the only hotel in the world that can claim to have had both its exterior and interiors designed by the late Zaha Hadid.
Externally the building appears to be a giant cube with an amorphous hole pushing through its centre, although it is in fact a pair of towers connected at the top and bottom to create the void effect.
"The precise orthogonal geometries of the Opus' elemental glass cube contrast dramatically with the fluidity of the eight-storey void at its centre," explained Zaha Hadid Architects (ZHA) project director Christos Passas.
A four-storey atrium sits at the base of the two towers. Above the gap, a three-storey bridge starts 71 metres from the ground.
The inside of the void is lit up at night by a constellation of lights, each individually controllable, set into the undulating glass.
The ME Dubai hotel, which opened in March 2020, has 74 bedrooms and 19 suites. Its lobby sits directly under the Opus' signature void, which forms its glass ceiling. Three stories of galleries with projecting balconies ring the perimeter of the space.
Gleaming white marble floors are highlighted by the golden edges of plush curved seating areas, upholstered in a rich burgundy. Called Ottomans, these seating pods are by Zaha Hadid Design, the design wing of ZHA.
A golden wall curves behind the white hotel reception desks, which are angled and lit by strips of lighting that match the balconies above. Slim golden edges top the glass balustrades of the balconies, which are set at an angle tilting back from the undulating edges.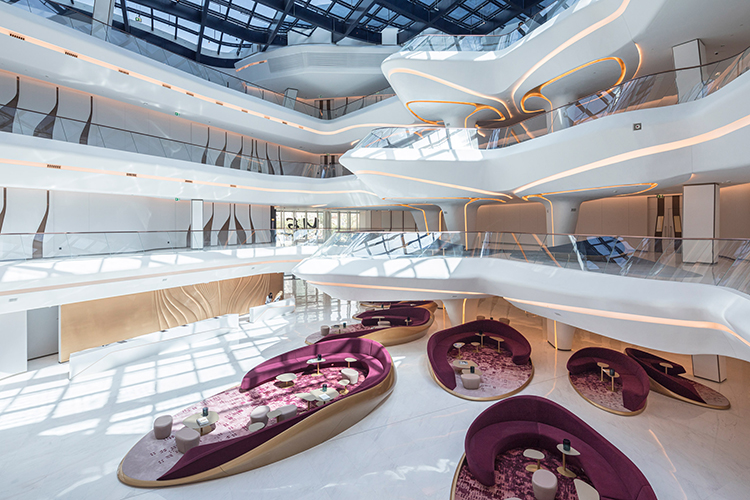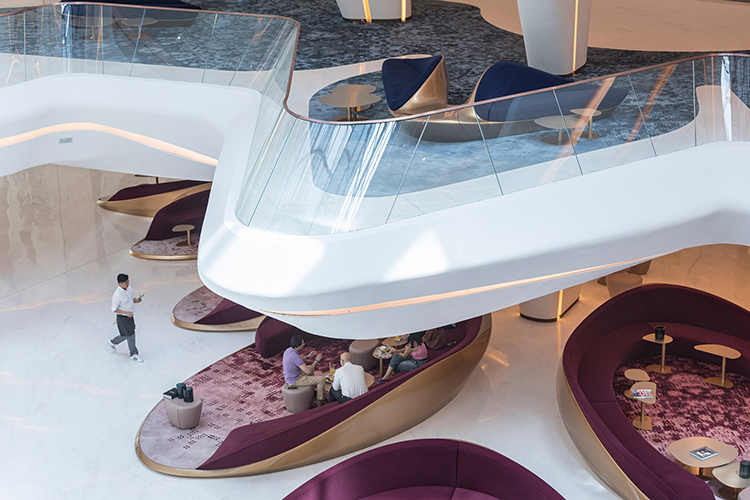 Benches on the balconies, with deep navy cushions set in curving golden frames, are from Zaha Hadid Design's Petalinas collection.
Each hotel bedroom features a Zaha Hadid-designed bed, with a mattress that sits on a sculptural frame projecting from the wall. In the bathroom, the sinks and showers come from Zaha Hadid's 2015 Vitae collection for Noken Porcelanosa.
Above some of the double sinks hang twin mirrors with curves that seem to match the Opus' central void. As part of a drive for sustainability, the ME Dubai hotel makes every room plastic bottle-free, issuing every guest with their own stainless steel water bottle. Water dispensers are located all around the hotel.
In the dining areas there are no buffets, to cut down on food waste, and onsite composters digest organic waste.