Milan (Italy) | Nemo Monti has conceived a project to encourage the design of a new model of Newsstand for the 21st century. Developed with Corriere della Sera, the main Italian daily newspaper, the project is aimed at giving to the newspaper supply and distribution chain new venues for dialoguing with the public, restoring newsstands' centrality in today's urban landscape.
Under the curatorship of Luca Molinari Studio, a design competition has been launched involving seven international studios. The brief was to rethink the traditional newsstand: in the sense of what it should look like, but also how it should relate to urban space and the services it offers to the public. The studios involved in the project are: Edge Design Studio – Gary Chang; El Equipo Mazzanti; Embt – Benedetta Tagliabue; Fabio Novembre Studio; Gambardella Architetti; Lina Ghotmeh Architecture; Matali Crasset. 
A jury of well-known personalities, chaired by architect Mario Bellini, will select the winner and the winning project will be created and presented during Milan Design Week 2020. The 7 projects will also be on display in a dedicated exhibition.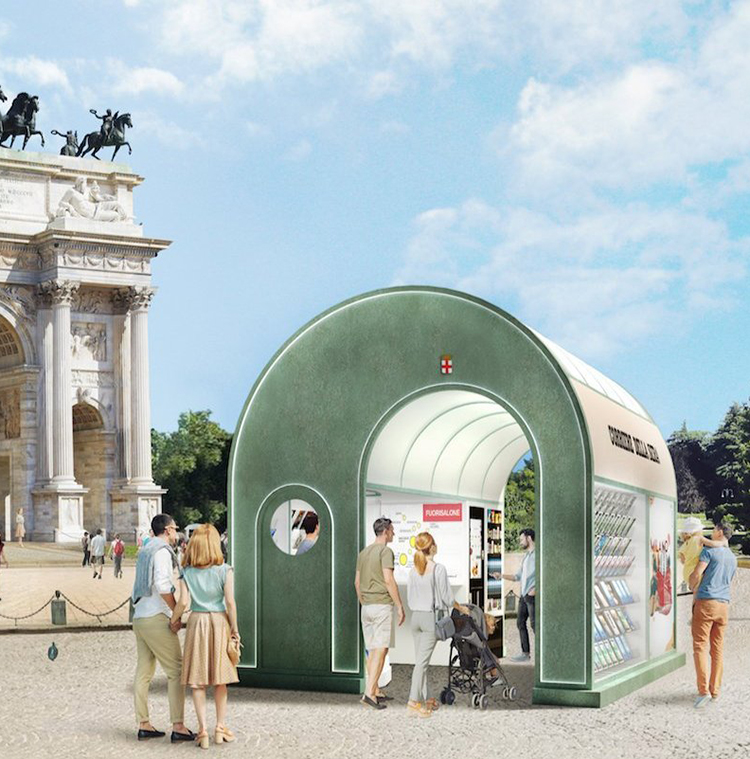 The concept
The newsstand is a physical symbol for the relationship between newspapers and citizens. Redesigning the location means rethinking and physically constructing a new model that is more contemporary and versatile in representing the relationship between newsstand and city, newspapers and consumers. The aim of "Edicola del Futuro" (Newsstand of the Future) project – created by Nemo Monti for Corriere della Sera – is to investigate a new model for a contemporary newsstand. "Given all the changes in society – and in a market redefined by technology – the newsstand cannot carry on as the monument of a system rapidly evolving." states Nemo Monti "It could become, rather, the cornerstone of a new system of relations – commercial, urban, civic, service and information – that finds its symbolic aspect in the physicality of the place. And also give vendors a new role and renewed centrality in the urban context: both as regards functions and in the sense of aesthetic decorum".
The competition
The Corriere della Sera has hosted a first meeting to explore these issues in depth, followed by the launch of an architecture competition, under the curatorship of Luca Molinari Studio, where designers were asked to give a physical dimension to the new concept of newsstand.
"Imagining the newsstand of the future means radically shifting the optics from the traditional postcard of a standard, featureless, monofunctional object to a metropolitan structure capable of changing its life and how it is used in the course of the day" states Luca Molinari "A friendly and sustainable neighbourhood centre, a convenient place to stop at where the quality of forms and simplicity of construction make it ready and able to occupy different contexts."