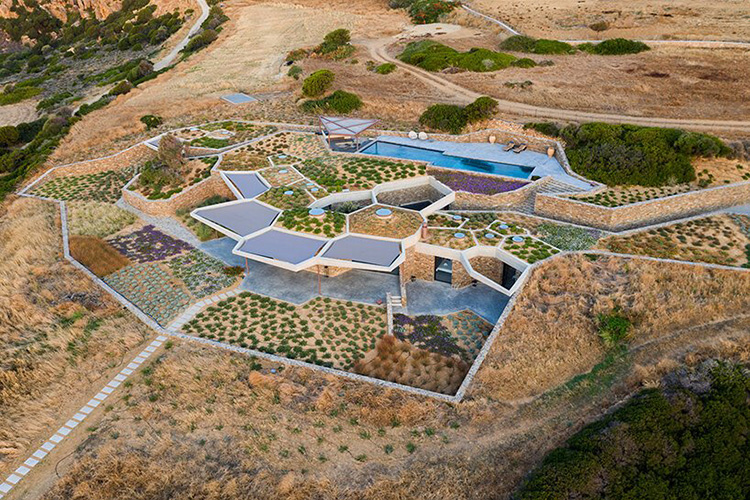 With its 'hourglass corral,' DECA architecture completes the latest addition to an evolving series of residences on the greek island of milos. the project, intrinsically molded by the natural conditions of its site, seeks to introduce a sensitive and sustained attention to the local tradition and the celebrated landscape. sun-drenched and cooled by sea breezes, the impressive work of architecture is sunken beneath the level of the ground plane. the dwelling, which has four south-facing bedrooms, forms part of the 'voronoi's corrals' — a larger territory the architects have been designing for the last ten years. with its green roof, the project aims to generate a dialogue between architecture and nature, logical geometry and organic wilderness.
carefully considering the orientation of the 'hourglass corral' dwellings within the site, alexandros vaitsos, co-founder of DECA architecture, comments: 'we tried to decipher the feelings that we experienced at each location, the aura, the vibe, the genius loci of each place. we mapped the views, the movement of the wind in relation to the topography, the orientation of the sun and the shade in relation to the slopes, the distribution of the flora and the varying geological characteristics throughout the landscape.' through this investigation, five locations were identified to suit the needs of the project.
DECA architecture curated the plan using a voronoi parametric strategy. the voronoi is a mathematical construct that divides a plane into cells based on the distance to clustered points. 'in the hourglass corral we took the challenge to work rigorously with the voronoi diagram logic,' continues alexandros vaitsos. 'we composed the architecture through parametric design creating each individual cell according to the views and the spatial needs.'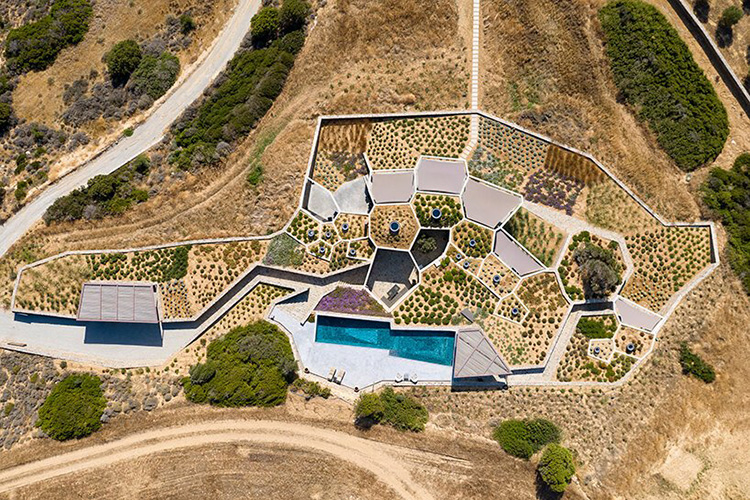 'we used parametric design tools. instead of drawing lines, we refined our plans by moving points in space,' adds carlos loperena, co-founder of DECA architecture. 'voronoi's formula ensured that each table, bed or tree enjoyed the most amount of space in relation to its neighboring areas.
in this case, each 'cell' corresponds to a clearly defined program, be it an exterior courtyard, a shading canopy, a common space, or a bedroom. to the interior, the ceilings of each cell fold upwards towards a center point where the it is pierced by a circular skylight. this creates an organic, flowing interior roof-scape. the dichotomy of a mathematical approach to architecture and the idea of going 'back to nature' is masterfully materialized with DECA architecture's project.