This housing project is a building of nine flats in the outer green belt of Albisrieden in the city of Zurich. The urban structure is characterized by simple linear buildings from the 1950s with generously sized gardens, which are arranged at right angles to one another. The new building is inside such a green area as part of the rising density within the city, a solitaire, in between the linear buildings.The Baechi Foundation specifically asked for affordable housing with a great quality of living in the center of Zurich. Natural light, privacy and a spatial moment of generosity, were the focus of this project.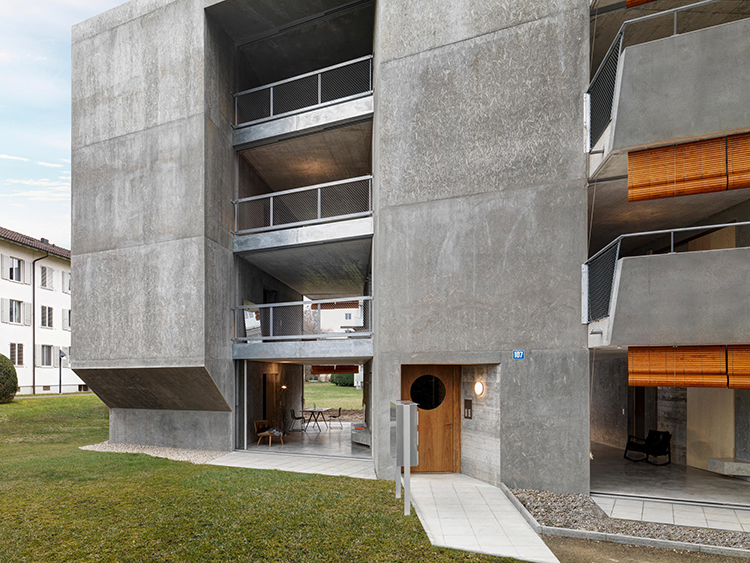 MORPHOLOGY
Morphologically it is a solid concrete block, organically formed, from which two courtyards were cut out. In these courtyards the living spaces float like bridges, from the morning sun to the evening sun. A continuous space that topographically creates the feeling that the living space is an exterior space – and not an interior space filled up with housing program. This results in an incredible moment of magnitude in a small space. Hence there is a generous open living space – which can be enlarged to the periphery of the balconies and sheltered by the famous wooden persianas from Barcelona. Economically optimized interventions by reducing all the technical installations of the building to a minimum – in swiss standards – we focus on a couple of interventions that add major value to the quality of the living space. These are sliding windows and a built-in bench as the communicative element of the concrete topography.
TOPOGRAPHY AND SENSUALITY
periphery of the living space is topographically processed and makes the space-limiting elements communicative. Therefore, the building elements and especially the periphery of the space is not a parting wall, but a topographically shaped protagonist – the topography incorporates programmed like wardrobe and living room bench. The bathroom of the 3-bedroom flat is separated from the common area by a sliding door, that does not touch the floor. It keeps the space floating as a common space, what it is and at the same time gives all the intimacy you need. The entrance to each flat is guided by a condensed massive concrete beam, that catches the moment of entry. The concrete bench growing out of the bathroom wall, creates a common space just at the entry of the bath sliding door, there is a moment of program intersection. The concrete floor floats in all the bedrooms, letting the common space flow and then inside the room a wooden floor implicates another level of intimacy.